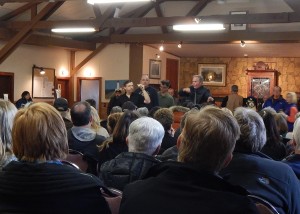 Everything you need to know to win big at an antique auction
Ever attended an antique auction? Before you say, "Yuk, who wants old curlicue furniture and crocheted doilies," let me explain. We go to country antique auctions all the time, looking for the rustic, vintage and natural artifacts we sell on our website at vintageadirondack.com. Granted there are lots of items at antique auctions that you won't be interested in. BUT, there are always a few things that will make you swoon, AND the prices are great!
What can you find at an antique auction? Think old farm tools, baskets, bottles, game boards, quilts, hand-made rugs, trunks, taxidermy, vintage signs and art, and fabulous quirky accents and decorative objects that will give your home character and make it uniquely yours.
If you love the look of Joanna Gaines' rustic farmhouse style on "Fixer Upper," (and who doesn't?) you can find it an antique auction. And when you think about it, why buy the mass-produced generic reproductions sold at the big box stores when you can have the real thing, and often for a lot less?
Here's everything you need to know to attend an antique auction like a pro and go home with a few treasures and money left in your pocket.
10 Tips for Scoring Deals at an Antique Auction
1. How to find an antique auction? Newspapers list antique auctions in the classified section, but for more immediate info, try googling antique auctions in your city or region. There are websites in most areas that list auctions by date and even include photos of some of the items for sale. (Don't be discouraged if you don't see anything you want in the photos. Auctioneers only take photos of one tenth to one quarter of the items for sale to whet your appetite. There are usually 300 or more items for sale at a good size auction.)
2. Think about what you are looking for before you go, and take a few measurements. You may find a washstand that would make the perfect bathroom vanity, but you need to know if it will fit in your bathroom before you bid! Take a tape measure with you to check the size of the item against your available space.
3. Register. First thing to do when you enter is stand in line to register. You will need to provide a driver's license and the registrar will enter your info into a laptop and give you a bidding card. Each time you win a bid, the auctioneer will call out your number and someone will record it in the computer system. When you go to check-out they will know what you bought and for how much, and you pay for your purchases all together. In most cases you don't need to pay in cash. Check the auctioneer's website for payment methods. Usually credit or debit cards are accepted.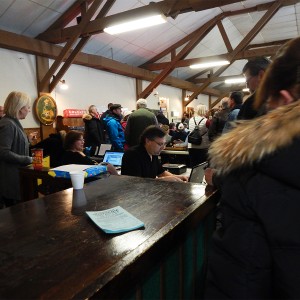 4. When you walk around the auction site, you'll probably be surprised at the size of the crowd and buzz of activity. Get there at least a half an hour before the auction begins so you can check out what's for sale. Items to be auctioned are generally displayed around the room so bidders can examine them before the auction begins.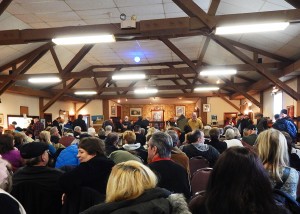 5. As you walk around, jot down the things you are interested in bidding on. The back of your bidding card is good for this, or take a small pocket notebook. As you win bids, write down what you paid for each item. This will help you keep track of what you've spent (an not blow the budget!) and you can check your figures against the auctioneer's when you check out.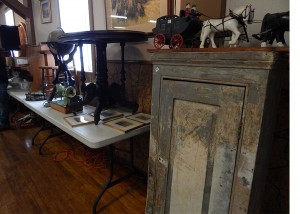 6. Be prepared for a long haul. Antique auctions can be looong! And if you're like us, some of the items you are interested in will invariably come up for bid late in the day. Be prepared to spend a few hours at the auction. An auction that starts at 10 AM might not wrap-up until 2 or 3 PM. Some antique auctions offer snack bars, but it's a good idea to bring along your own favorite snacks and a bottle of water or cup of coffee. A little sustenance can go a long way to enabling you to wait it out for the real bargains.
7. Make sure you inspect the item carefully before you bid. Check for damage and lift it up and look on the bottom. Something that may look like a real antique at first glance may have a "Made in China" sticker on the bottom and actually be a reproduction. Almost all auction items are sold "as is-where is," which means if you win the bid it is yours and you must pay for it. There are no warranties that an item is genuine, and there's no opportunity to change your mind if a piece is broken or scratched.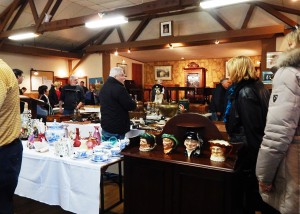 8.  Keep your wits about you. Auctions can move pretty quickly until you get into the swing of things. Most auctioneers these days have toned down the sing-song call and response chant they use to keep the bidding going so that it is understandable, even for newbies. And don't worry, you won't end up bidding by scratching your nose or nodding your head. Hold your bidding number up high and look right at the auctioneer when you bid, so he or she will know you're in.
9. Try not to get carried away. If someone is bidding against you for something you really want, it's easy to overbid. Set limits on the items you want to buy and drop out if someone else is willing to pay more. The buyer's remorse can be pretty heavy when you discover that you paid $50 for an item you can get on ebay for $12.50. And remember, other bidders at the auction might know even less than you do about the item up for bid. Don't assume that just because someone is willing to bid $200 for a set of Beatles memorabilia, it is worth that much. They might have a sentimental reason for bidding on something that isn't worth the price they are willing to pay.
10. Drive the biggest vehicle you have access to. If you have a truck, van or SUV, take it and clean it out before you go. Even though you might be planning on buying "smalls" you might find a rustic farm table that you can't live without. In most cases you must leave with everything you purchase, and the auction hall will be swept clean before the doors close. It's also a good idea to bring along a few boxes and newspaper to wrap up the treasures you collect to protect them on the ride home.
Antique auctions are a ton of fun and a great way to spend a Saturday. And there's nothing like the charge you will get from scoring a great buy on the perfect piece of furniture or decorative accent for your home. Here are a few of the items we purchased at the auction we attended last week, all of which are available at our website, vintageadirondack.com.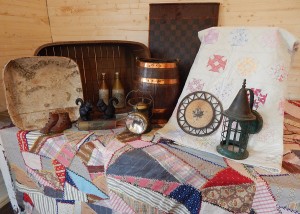 Our big score this week?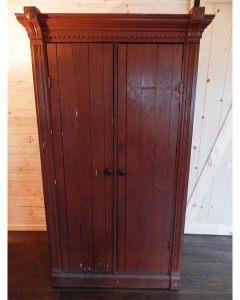 This 1880s wardrobe in original red/brown paint! How much would you pay for this? $300, $400, even $500? We got it for $50! Happy bidding!