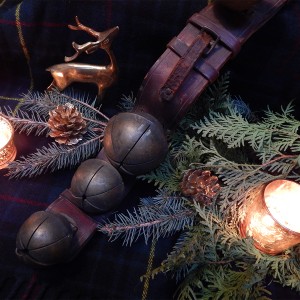 Vintage and natural elements give your home warmth this season.
[pinterest count="horizontal"] It's that time of year when those of us in the east begin to crave warm and cozy surroundings to cuddle up and wait out the long cold winter. Here's everything you need for cozy rustic winter decor.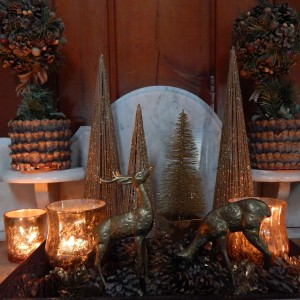 Christmas decorations have been packed away, and it's a long way to fresh new leaves and spring blossoms. As the snow deepens and the wind roars in off the lake, we love to busy ourselves with a toasty fire in our cozy cabin tucked away in the trees and little decorating projects that make us feel snug and comfy.
Here are a few of the rustic elements that will give your home a safe and restful feeling until Mother Nature bursts forth with her bounty.
Vintage Blankets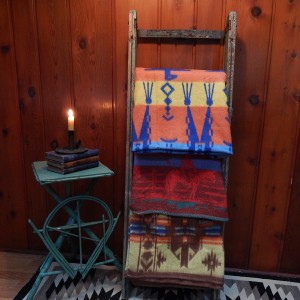 Nothing says cozy like vintage blankets and quilts! Whether they are piled on the bed for extra warmth, stacked in a vintage cupboard or hung on an old ladder for display, fluffy vintage blankets are the quintessential winter home decor.
The bright and warm colors of these vintage Indian (and cowboy!) woven blankets ward off the grey skies and the winter blues, and offer the perfect companion for curling up with a good book and a steaming cup of your fave hot beverage!
(Blankets, ladder and twig table available NOW at vintageadirondack.com)
Antlers & Hides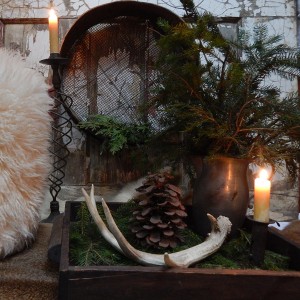 Some people are turned off by the rustic lodge look of antlers and hides and the thought that animals were hunted for home decor. Don't get us wrong, we don't condone hunting animals. We prefer our antlers attached to their original owners in the wild.
But deer antlers used for display are often shed antlers found in the woods. Deer need to shed their antlers annually in order for a new, stronger set to grow each spring. And hides that are the byproduct of animals hunted or raised for food are, to us, an appreciation of the beauty and majesty of nature.
The natural deer hide and sheepskin throw in this photo bring a textural counterpoint to the rustic wood of the antique grain sifter and tray. The sculptural shape of the antler provides a lovely connection to nature.
(Grain sifter, deer hide, antler and wire candle holders available NOW at vintageadirondack.com)
Vintage Snow Sports & Toys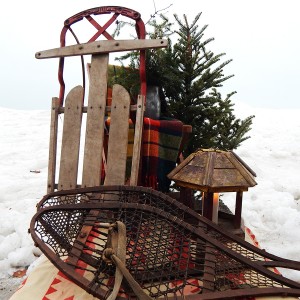 In simpler times families enjoyed the seasons by getting out to play in nature. Whether sledding on the powdery white hills, snowshoeing or skiing across the glistening landscape or skating on a frozen pond, the winter provided many outdoor pastimes to brighten the cheeks and bring laughter and joy.
Creating a winter porch display using a charming vintage sled or other old winter sporting equipment is a great way to welcome guests to your winter sanctuary.
(Child's sled, snowshoes, bird feeder lantern and sleigh bells from top photo available NOW at vintageadirondack.com)
We wish you a warm and cozy winter season!