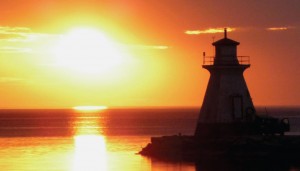 This past weekend was the Port Elgin, Ontario Antique Show which we had never attended before, so we thought we would travel up to the south Bruce Peninsula and have a look around.
Located on the Lake Huron shoreline in Western Ontario, the beach towns of Port Elgin, Southampton and Kinkardine boast lovely little downtowns, gorgeous old Victorian homes and gardens, sandy beaches and some of the most beautiful sunsets in the world.
It was a pleasant drive through rolling farm country with an amazing number of wind power turbines dotting the landscape. This part of Ontario is definitely on board with renewable energy! We stayed in Kincardine as it was furthest south and therefore closest to home. Got there in time to grab dinner at the Hawg's Breath Saloon, a charming little pub on the main street downtown, and ranked the #1 Kincardine restaurant on Trip Advisor. Good food, cold beer and a wonderful, friendly atmosphere.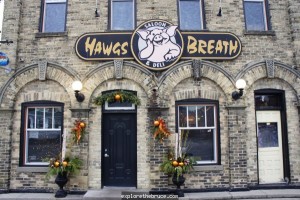 Saturday morning it was about a 30-minute trip up Route 21 to the Port Elgin Plex where the antique show was held. Nice that it was in this air conditioned arena as the mid-July weather would have caused us all to wilt if we were outdoors.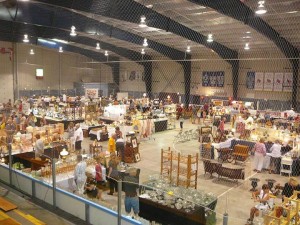 About 40 dealers participated, and there was a wide variety of antiques and collectibles from Coca-Cola signs, to our favorite quilts and vintage fabrics at the Big Chenille booth, to gorgeous Oriental rugs and tons of glassware and china. This is not a rustic and primitives show, but we managed to find a dozen or so items that fit the Vintage Adirondack style.
The highlight of the show for us was meeting Marianne and buying the most incredible coffee table made from a late 1800s blacksmith shop bellows. (To be listed this week at vintageadirondack.com!)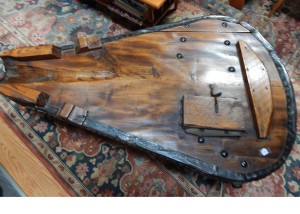 Marianne and her husband own Sauble Beach Antiques, and we made a beeline there right after the show. What a rewarding experience! Sauble Beach Antiques is one of the largest and best collections we have ever visited. They offer a huge variety of mid-century modern and the largest collection of beautiful antique lamps you can possibly imagine.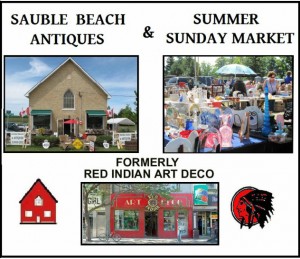 Brad has been in the antique business for over 30 years and shared so much knowledge and expertise with us that it would have been worth the trip just to talk with him, but in the end we bought 9 more fabulous items for our inventory (stay tuned!)
If you visit the Bruce Peninsula area you really must stop in. They have a Sunday Outdoor Market in summer and host an annual antique show and sale every 4th of July weekend.
After our visit we drove down to Sauble Beach to check it out.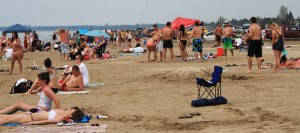 Sauble Beach is one of the longest beaches in the world and during the summer months it is a favorite among Ontario families. Because it is a western facing beach it boasts spectacular sunsets year round.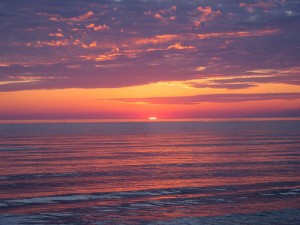 From Sauble Beach we drove down the coast on Route 13 past beautiful wooded cottages to Southampton, another lovely little beach town. We dipped our toes in Lake Huron at the foot of High Street (cold!) and sat under the huge and famous Canadian flag to look across the water to Chantry Island. You can take a boat ride out to the island from the Southampton Marina and tour the lighthouse that has stood there since the mid-1800s, but we were on a mission, so we kept moving.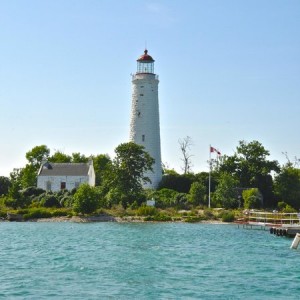 We stopped for lunch at the Elk & Finch on Highway 21 in the center of Southampton, which has a great outdoor patio.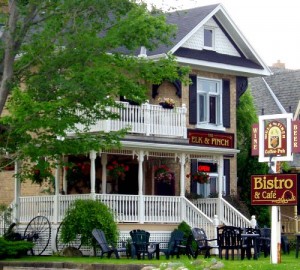 The super friendly servers allowed Lola (road dog) to sit with us under the table and even brought her water along with lots of hugs and affection. The Elk & Finch is a dog-loving establishment, and therefore tops our list!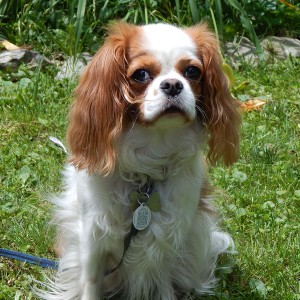 Fortified with a great lunch, we headed back to Kincardine to stay our second night. Kincardine is another charming beach town with a strong Scottish heritage, and every Saturday evening the Kincardine Scottish Pipe Band marches down Queen Street with visitors and locals joining the parade. Of course, we jumped in and enjoyed the fun.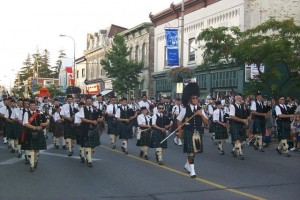 After a nice dinner at Tramonto, a chef-owned Italian restaurant featuring a creative mix of pasta and tapas, we wandered down to the beach to see a tremendous fireworks display put on by Bruce Power, the world's largest nuclear plant, which is in the area. Lucky for us we were there on the night of their annual Beach Party. It was an incredible display.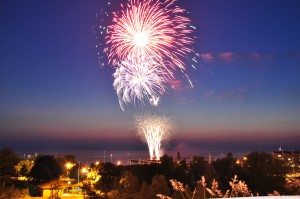 The next morning it was time to head home, stopping at any and all antique shops we passed along the way. We headed south to Goderich, Ontario, where we happened on a fabulous antique barn on Blyth Road called Dunlop Livery Antiques. Bob the owner was very friendly and helpful and sold us the most incredible matching pair of antique hand hooked rugs we've ever seen; formerly in his personal collection. (Be sure to stop in and go upstairs in the barn to find the real treasures!)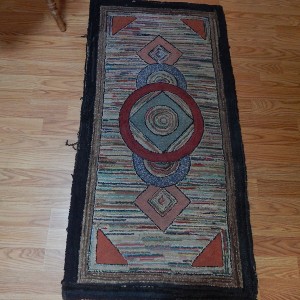 From Goderich we headed to Stratford, where the world famous Stratford Festival is held, featuring plays from Shakespeare to modern comedies. Stratford is a whole weekend trip in itself, and since we've been there before, we drove through the lovely town and kept going. We stopped in at the Stratford Antique Warehouse on the outskirts of town, a large antique mall with over 120 vendors, but there wasn't much there in the vintage adirondack style, so we kept moving.
Southeast of Stratford we came upon Woodstock, Ontario, where we were blown away by the huge and gorgeous Victorian mansions on the tree-lined main street into town. They are truly something to see.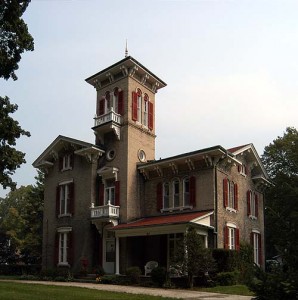 The last stop on our antiquing adventure was Land and Ross Antiques just outside Woodstock in Shakespeare, Ontario, where Gloria was very friendly and helpful. Land and Ross has an incredible collection of gorgeous antique furniture including some farm and harvest dining tables that we were drooling over.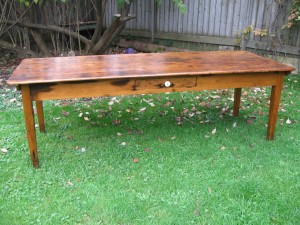 Finally on our way home, we passed the last couple of hours traveling through family farm lands back to the northern shore of Lake Erie and our cottage. It was a fabulous trip and we highly recommend antiquing on the Bruce Peninsula! We bought 25 incredible items, which we will start to post this week at vintageadirondack.com.