How odd it is that on February 1 the grass is green, the sun is shining and the temperature is 40 – 50 degrees here in the Northeast. As I walked the dogs this morning I heard the twitter of a flock of tiny birds in the hedge, the sound of waves rolling in to the shore (no frozen lake this year) and even saw an insect buzzing over the grass.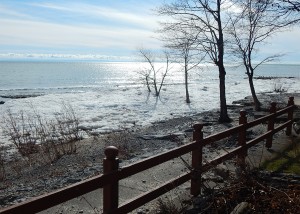 With the sun warming my face and the dogs friskier than usual as they scampered around the snowless ground, I felt a wonderful sense of well-being, as though spring is right around the corner.
It probably isn't of course. We still have all of February and most of March to get through before we start to see Mother Nature bursting with spring growth. But by living in a natural environment, we have the opportunity to notice and appreciate days like today when winter takes a brief break and tantalizes us with a glimpse of spring.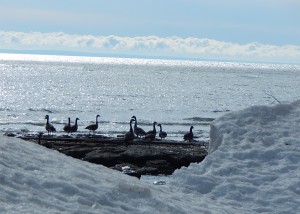 Living closer to nature really does improve our mental health and well-being. Hearing the waves splashing on the shore provides a natural balance to the stresses that challenge us day-to-day. Coming home is always a get-away. Connecting to nature is peaceful and rewarding and stimulates mind and spirit.
So if you have a chance today, find a green space and spend a few minutes taking in what you see, hear and feel. Relax and notice the sun on your face, listen to the breeze in the trees and the bird song, or observe wild creatures like these geese gathered on the lakeshore. We guarantee your day will be better for it!