Happy New Year!
We hope you had a wonderful holiday season! Ours couldn't have been better, with our kids home from far-flung places and lots of family time.
But it was a hectic time too. We were so busy creating our rustic Christmas collection at vintageadirondack.com (remaining selections on sale here: https://vintageadirondack.com/product-category/christmas) starting right after Thanksgiving that we left ourselves little time to decorate the house, find the perfect presents and prepare for all the family celebrations. Next year we will definitely start earlier!
Now that the rush is over, its time to get back to a regular routine and set some goals for 2016 with focus and intention.
We rarely make New Year's resolutions any more, as we've come to terms with the fact that by the end of January they are all but forgotten. But this year we thought we would make a short list of 3 inexpensive and not overly ambitious updates we want to make to our home and actually get them done!
Our list may inspire you to tackle a few projects at home as well, and if so we hope you'll dive-in with gusto! We'll report on our progress throughout the year and post before and after shots when each job is done.
1. Refresh the Kitchen
Our kitchen walls and cabinets are natural stained wood, which makes the room look dated and dark. For a few dollars worth of paint and some sweat equity, plus making some new curtains, we're going to give our kitchen a facelift.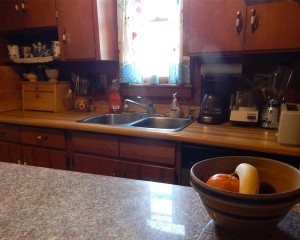 2. Finish an Abandoned Project
Most of us start home projects with tons of energy, only to run into a challenge or roadblock that dampens our enthusiasm. I bought this fabulous claw foot side table last spring with the intention of immediately chalk painting it to match our living room decor. And yet there is still sits, in its chippy, dingy original paint. Annie Sloan Napoleonic Blue, here I come!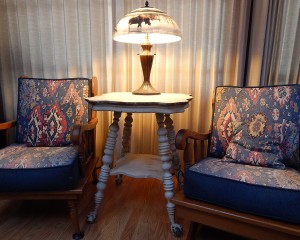 3. Replace the Bathroom Vanity
Lately I've been totally obsessed with rustic old furniture pieces repurposed into bathroom vanities. Here are a few I'm in love with from our Rustic Bathrooms Pinterest Board: (https://www.pinterest.com/vintageadironda/rustic-bathrooms)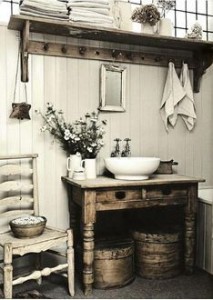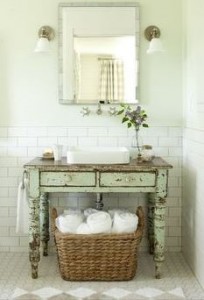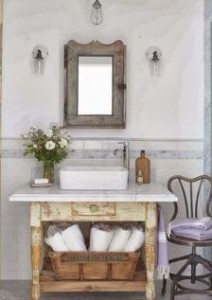 This year, as we're visiting auctions, estate sales and antique shows, buying inventory for vintageadirondack.com, I'm going to keep my eye out for one that will fit in our tiny bathroom and make it happen!
If you have a blank spot, unfinished space or decorating project in your home, we hope you'll visit vintageadirondack.com to browse our rustic vintage and antique home decor for the perfect decorative piece for your cabin, cottage or log home.