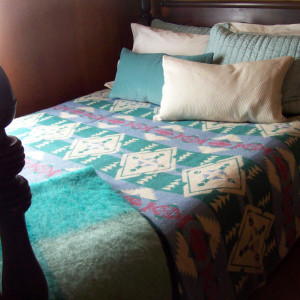 The holiday decorations are packed away for another year, and many of us are looking to the long, cold months of winter ahead. Lucky for us, rustic homes take on their coziest and most comforting aura now as frost glazes the window panes and the snow piles up outside.
The bedroom is an ideal spot for cocooning this time of year with cozy wool camp blankets, chunky throws and tons of pillows to take the chill off and add color and texture to our cuddly refuge.
We found this fabulous (and huge!) Beacon Blanket at an estate sale in the south towns of Western New York this fall that definitely answers the call. Made of 85% wool and 15% cotton, the heavy weave of warm neutral colors including creamy off-white, seafoam green, light blue and rose make for a sumptuous nest. Best of all is the label, which reads, "Beacon Blankets make Warm Friends."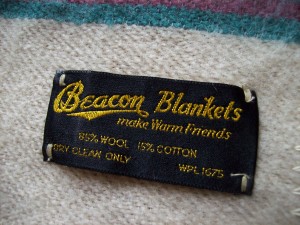 The find prompted us to do a little research on Beacon Blankets, and we discovered that the company was founded in New Bedford, Massachusetts in 1904 and moved to North Carolina in 1925. In the 1930s Beacon was the largest blanket manufacturer in the world, and during World War II they converted to making wool and wool/cotton blend blankets for the war effort. The family-owned business was sold in 1968.
Beacon employed unique jacquard looms that permitted the weavers to use up to four colors in their blanket designs. They developed designs that were influenced by the Navajo patterned camp blankets of the west and perfected the "ombre" weaving technique which resulted in color shading that has never been duplicated.
After the war Beacon reverted back to cotton.  In the 1950s, however, the company began adding rayon to the cotton.  At the same time, the ombre weaves were discontinued, as they could not be woven on newly installed machinery.  By the time the plant closed in 2002, they were making blankets of acrylic.
We haven't been able to date this Beacon Blanket yet. It may be more recent, from the 1970s or 80s, vintage rather than antique, but from the history we've read, its wool/cotton fabrication seems to indicate it was made before the introduction of rayon to Beacon Blankets in the 1950s. It is double-woven, meaning that the pattern color on the reverse side is the opposite of the front.
Look how different it is turned over. Creamy instead of colorful, subtle instead of bold.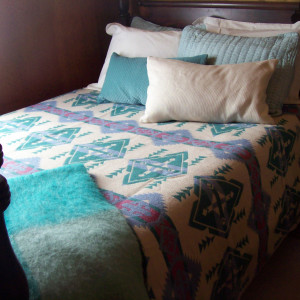 One thing is for sure, it has never been used and is in absolutely pristine condition. The cream-color cotton thread stitching on the edges is perfect.
If you're interested in collectible Beacon Blankets, take a look at this video from MarthaStewart.com for more information:  http://www.marthastewart.com/912983/collectable-beacon-blankets#912983.
As always, all of the one-of-a-kind vintage items you see in our blog photos are available in the vintageadirondack.com Shop section.