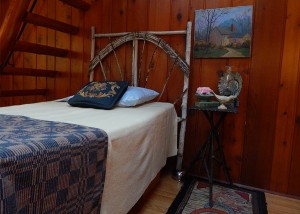 Keep it real!
If there's one thing that makes us cringe its the tacky "rustic" decor we see all over the Internet. You know what we're talking about, plastic looking resin bears, faux wood logs, animal shaped lamps and hideous fake quilts sporting all manner of wild life.
Take a look at the photos below to illustrate our point. The first photo is a gorgeous eclectic bedroom at Camp Tapawingo in the Adirondacks. Its authentic vintage rustic decor incorporates natural birch bark bed frames, antique and primitive furniture, an authentic wood stove, vintage oil lamps and all types of woodsy accessories.
Now look at the second photo below. Here's a contemporary "rustic" bedroom. It pains us just to look at it. Chunky log bedframe, laser cut-out bears in the woods on the head and foot boards, and enough pine trees and bold checks on the bedding to make your head swim. Not what we would call a relaxing environment!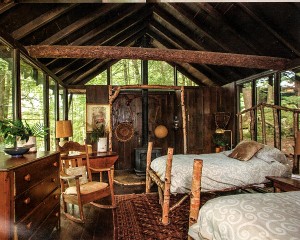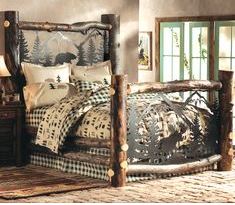 Our latest listings on vintageadirondack.com include lovely vintage items that will transform your rustic bedroom into a cozy and authentic sanctuary, as seen in the photo at the top of this post. From the bent twig headboard and warm wool camp blanket to the antique handmade rugs and coverlet, to the twig table, oil lamp and original oil painting, your rustic bedroom can be filled with beautiful things that make you feel calm and comfortable … not phony forests and marauding animals.
To view all of our new listings, please click on the "Shop" page at vintageadirondack.com and select the NEW section.