The daffodils are coming up! Aah-mazing! Even though it's been a mild winter, we are so ready to welcome spring and can't wait for the return of the robins, the buds making an appearance on the trees, and the waves of spring flowers nodding in the warming breeze.
The coming of spring puts us in a mood to throw off the cozy blankets and quilts that we have been cuddling in for so long, turn off the TV, get off the couch, and go outside to wonder at how quickly everything is changing.
The ice is gone from the lake, the snow has melted and the flower beds need tending so the spring blooms can open their arms to the sun. The sign of the tiny daffodil buds poking through the earth inspired me to clear away the last of the winter decor (goodbye pine cones!) and set about creating a little buffet table vignette that is all about the green!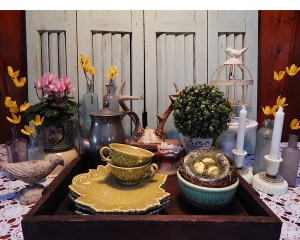 We are absolutely in love with these 1940s milk glass candle holders in the lightest shade of mint, and started poking through the vintageadirondack.com inventory for items that would welcome the new season with vibrant spring color.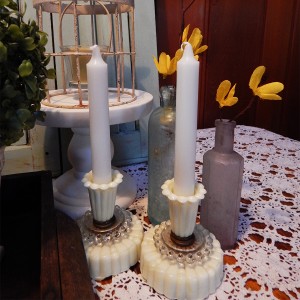 The lovely old English candy tin with its green, blue and pink flowers made the perfect flower pot for a delicate little cyclamen plant.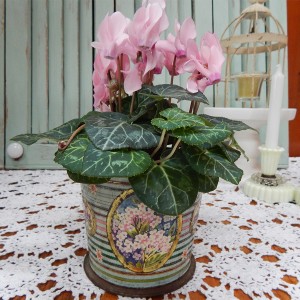 Our Steubenville snack set paired perfectly with an old pewter teapot and our charming moose cream pitcher.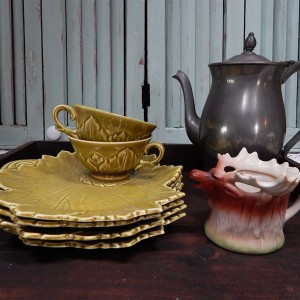 The little bird nest fit in the top of our small McCoy leaf bowl just right.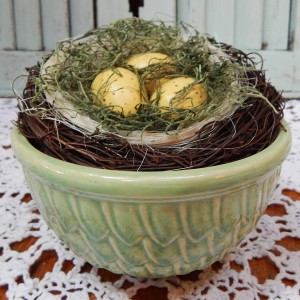 And a few colored antique bottles make the perfect holders for some spring blooms.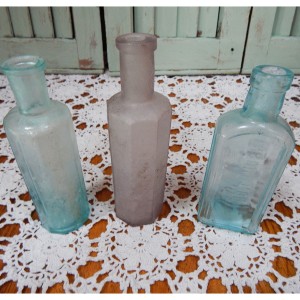 Our beautiful small white antlers add a lovely natural rustic touch.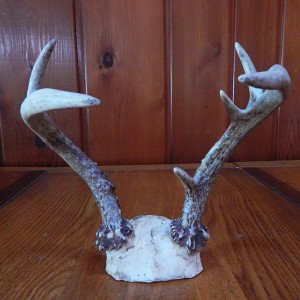 It makes me happy just to look at the little grouping and provides a cheerful focal point in the dining room. All of these items, plus other Easter and spring vintage rustic decor, are available for sale at vintageadirondack.com to bring a little spring cheer to your home too. Just click on the Shop page in the main navigation and select the NEW category at the top of the page.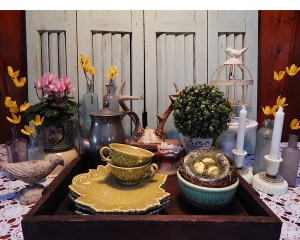 Spring is an opportunity to begin again, to open the windows to catch the sweet smelling air, and to open our arms and hearts to embrace new opportunities and possibilities.
We hope you catch spring fever this year!