Everything we love about the Aberfoyle Antique Market.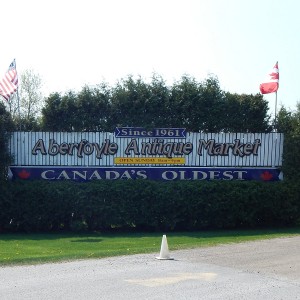 One Saturday in the spring and one in the fall, antiquers of all stripes head for Guelph, Ontario and the Aberfoyle Special Shows.
It's an event that attracts everyone from the fancy antique shops in Toronto to the young couples just furnishing their first apartments and looking for bargains. And everyone finds what they're looking for.
On these two Saturdays, Aberfoyle swells from their 60 or so regular dealers, to over 150, and the show grounds take on the look of a tent city. Small time antique dealers and pickers who travel the back roads of Ontario looking for rusty gold save their best stuff for these two special shows. They pack up their pick-ups and head to Guelph, where they proudly display their treasures, often on the ground in their parking space.
To be sure, there are elaborate tents with professional displays of painted furniture, mid century glassware, old toys and vintage jewelry, but we tend to pass those at a brisk walk, turning our heads from side to side as quickly as possible, so as not to miss a treasure hidden among the clutter. But where we're really heading is to the outer ring of the show, where folks who don't have a tent and can't afford a large display space hawk their wares.
Often these vendors don't even bother with a folding table, just opening the backs of their trucks and allowing us to peer in at their stash. We love talking with these people, finding out about where they came across their treasures, speculating about the age of an item, and sometimes even trying to figure out what some things were used for. We learn a lot from every one of them, and love hearing the back story of every quirky, curious item. These sellers are eager to launch into a spirited discussion of the history of their pieces, and haggling over prices is their first love.
We came across one such vendor at the last Aberfoyle show, who only had half a dozen items on display. One of them was this fabulous empty Butter Churn Box painted a striking shade of orange. He loved the color he said, that's why he bought it. We bought it because it will make an awesome storage container in a rustic entryway. (Sorry guys, this item is already sold.)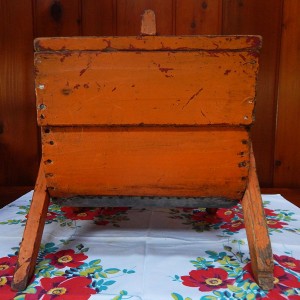 Another vendor complained that people don't appreciate all the work that went into handmade quilts any more. We countered that there are still a few who do, and bought her gorgeous antique Log Cabin Quilt to prove it.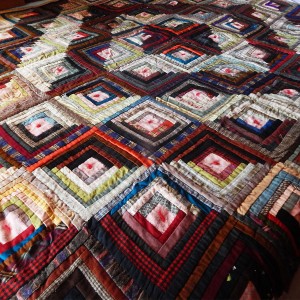 One dealer amazed us by recalling that we had bought an old farm stool from him at the previous Aberfoyle show. How could he possibly remember that? We had to return the compliment by buying three more! (Click on photos to link to listings.)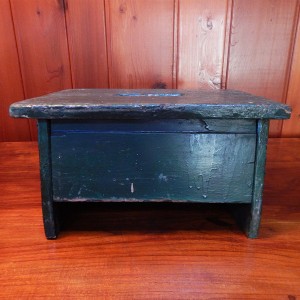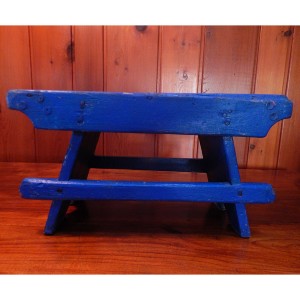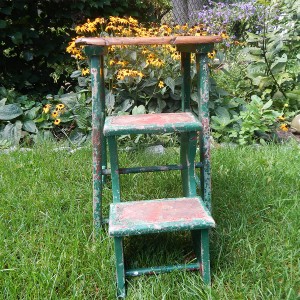 Another seller tried to convince us that someone had crafted this interesting hand-painted box to carry a camping lantern. Really? Why would they do that? Aren't camping lanterns designed to be carried on their own? We think its a Milk Box, from the old days when the milkman delivered to your house and left your milk on the porch. And anyway, its higher purpose is as a decorative holder for a vase of gladiolas, right?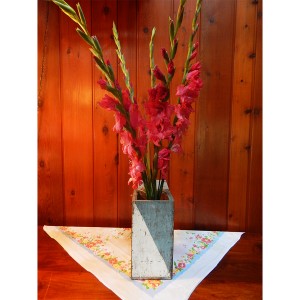 We also loved talking with the seller from our area who described how he purchased this incredible Hand-Painted Sign from the family who was closing their farm stand after 60 years.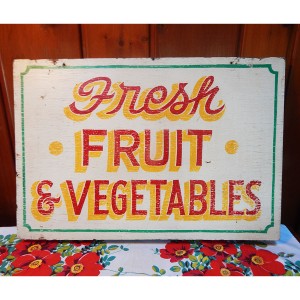 All of these items and many more fabulous Aberfoyle finds are available now at vintageadirondack.com.