If you're anywhere near my age …
you've probably heard the phrase, "Don't sweat the small stuff," many times.
But when it comes to transforming your home into a source of comfort and tranquility, the small stuff is actually your path to happiness. In fact, according to Ann Stillman O'Leary, who wrote the book Adirondack Style that was our original inspiration for vintageadirondack.com, "Small decorative elements count, and without them a room is a shell of what it could be. This is where most camp owners lose interest and falter, and interior spaces take on the aura of a hotel room."
We couldn't agree more. It takes time and patience to build collections of home accessories with a connection to nature and the Adirondacks. Collectibles like vintage baskets and creels, Indian artifacts, quilts and blankets, antlers and natural elements, vintage sporting goods, and other items of camp decor are hard to find. But by adding collected, curated, raw and found objects that have inherent signs of life, you allow your home to tell your story and make the connection to the natural world that we are all craving these days. That's why we spend a lot of our time prowling antique shows and flea markets for old things with a historical connection to times past when life was simpler and time was slower. We bring them together to connect you with the perfect vintage natural home accessories so you don't have to search high and low.
With fall coming on, feeding our desire to cozy up our homes, I've been looking around at some of the small vintage and antique objects I've collected over the past few months, that I never seem to get around to listing on vintageadirondack.com. Creating a fall decorative collection on an old wood tray, or tucking it into a cozy corner of your room, will help your home reflect the season and make you feel so snug and comfortable you may never want to leave the house! Because in truth, our cabins, cottages and camps are all about relaxing, reconnecting with nature, and repairing the soul, right?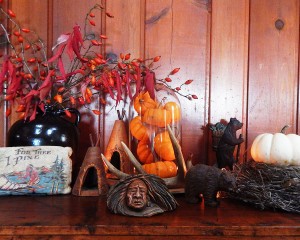 This rustic vignette has Adirondack-style great camp written all over it. The natural bits include an antler, a robin's nest built in a box on the side of our cottage this past spring, fall branches picked along the road, and of course a few festive pumpkins. Adding native made birch bark teepees that were made by Indian families in the 1940s and 50s and sold as souvenirs to the tourist trade adds to the vintage charm.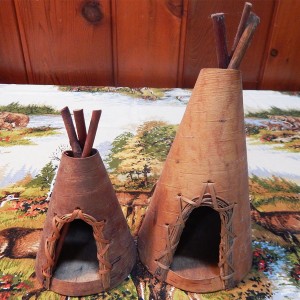 A balsam pillow with an Indian theme that was a souvenir from an Adirondack amusement park called Frontier Town is quintessentially Adirondack.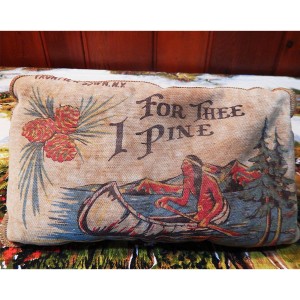 Native American art, like this Turtle Clan Chief sculpture by First Nations artist Thomas Maracle reflect respect for the history of the Adirondack region.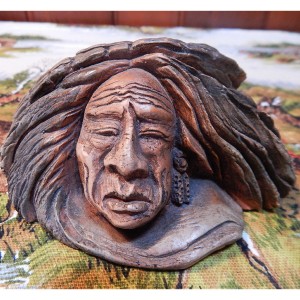 And of course, it's hard to imagine a well decorated camp without some reference to bears. This vintage wood bear in the Bavarian style is a must have for everyone who wants that classic great camp style.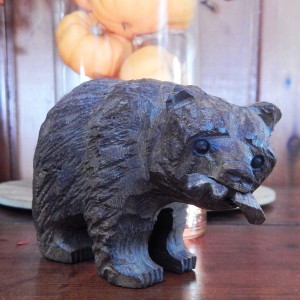 And this bear doorstop with a walking stick and a pack basket full of leafy tree branches, will add a bit of whimsy to your rustic decor as he strides through the forest.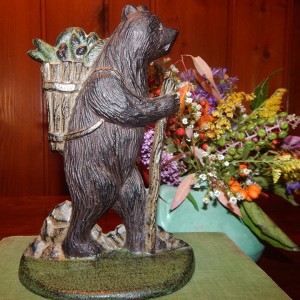 So go ahead, go out and do a little foraging for some design elements from the natural world, collect fallen leaves and gather some acorns, branches, moss or pinecones. Pull together a few vintage rustic treasures, and create a little grouping of your own that will make your home feel warm and tranquil and provide the coziness you crave. And if you need a little inspiration or one great piece to pull it all together, come and visit us at vintageadirondack.com!