Nothing says cabin Christmas more than charming vintage decorations.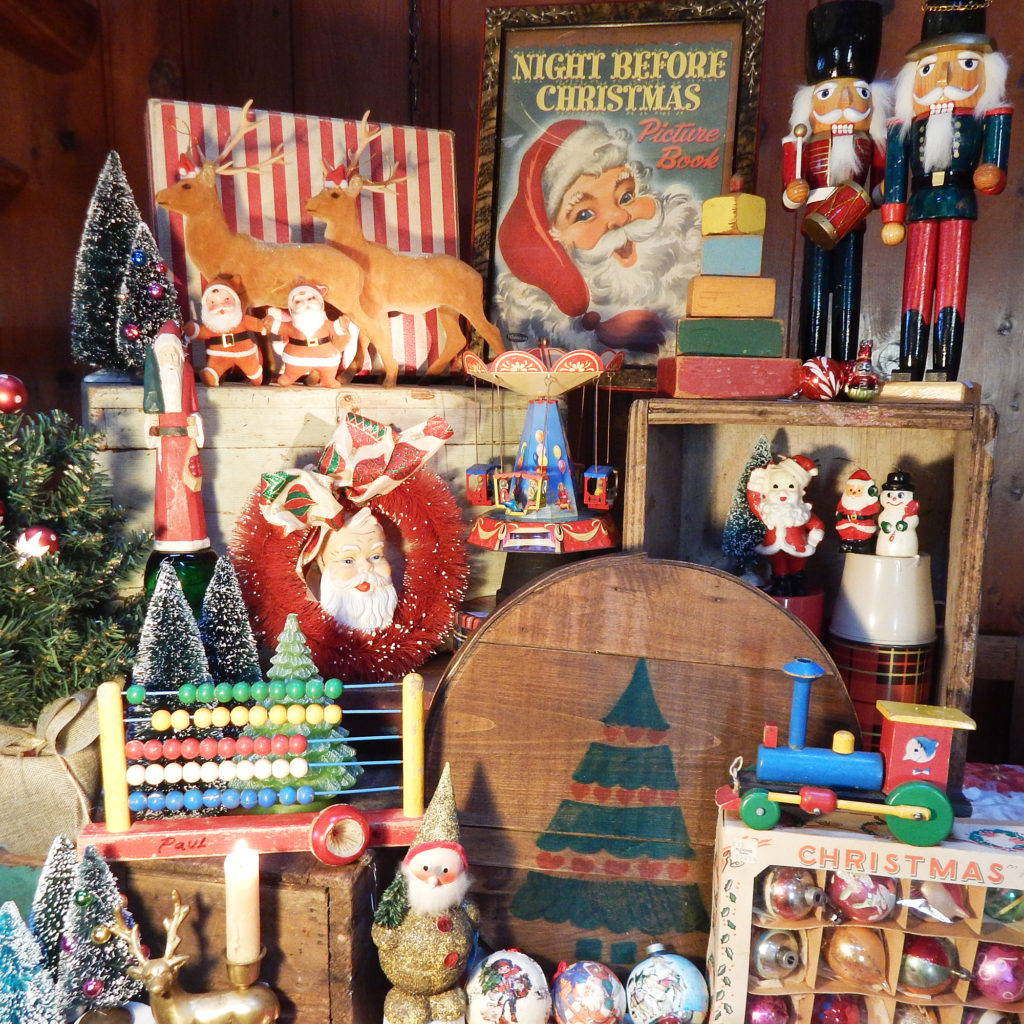 We just love the combination of tradition and nostalgia that these old decorations bring. They are relaxing and comforting, which is something most of us could use right now, right?
Here's a walk through some of the vintage Christmas decor that we are listing in our Etsy shop this year. Many of these items are already available, and the rest will be listed this weekend. Plus, we'll have more vintage Christmas ideas for you in the coming weeks, so come on back to see what's new.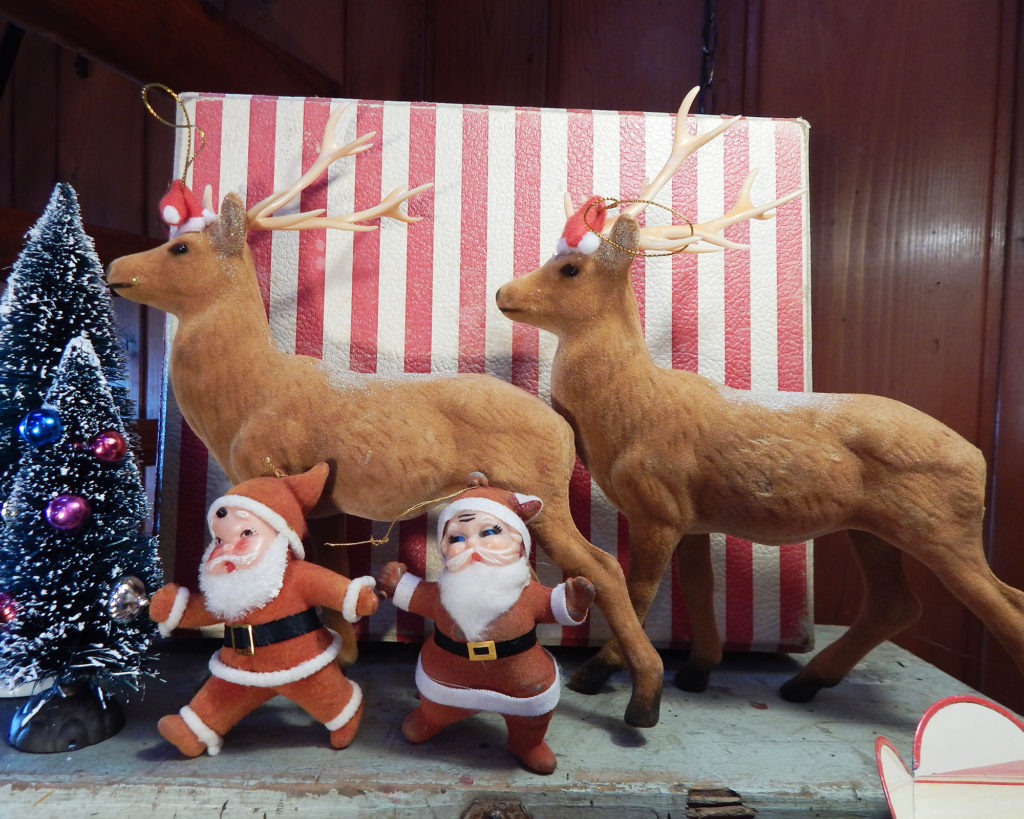 Aren't these old reindeer and Santa ornaments fun? They are both so finely detailed and sentimental. Flocked plastic decorations like these were part of the childhood of the Baby Boomers, and are guaranteed to get them all misty-eyed over the holidays!
Here's another one that breaks the bank on Christmas kitsch.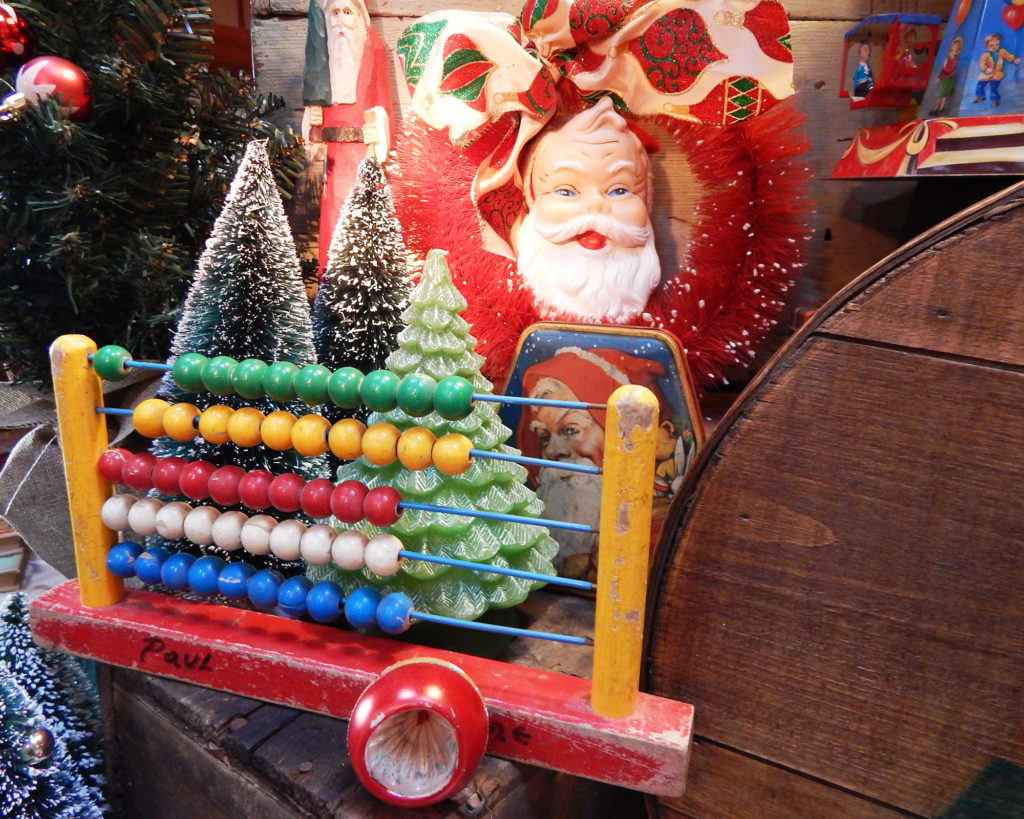 See the vintage bottle brush wreath with the Santa face ornament? Now that is one-of-a-kind nostalgia. Both were made in the 1950s, and are absolutely iconic. Bottle brush Christmas trees are all the rage this year, and you can find them everywhere – from Target to the Dollar Store – in a rainbow of colors. We happen to think the old ones are best though. They were made with much more detail and care, as their 70-year survival can attest.
And that Santa face! Have you ever seen anything more wonderful? He is beautifully detailed with a curly white beard, cherry red mouth and twinkling bright blue eyes. He has his original tag – Fancy Doll, made in Japan. Doesn't get any better than that!
We also love old mechanical toys as nostalgic decorations, and this one takes the cake!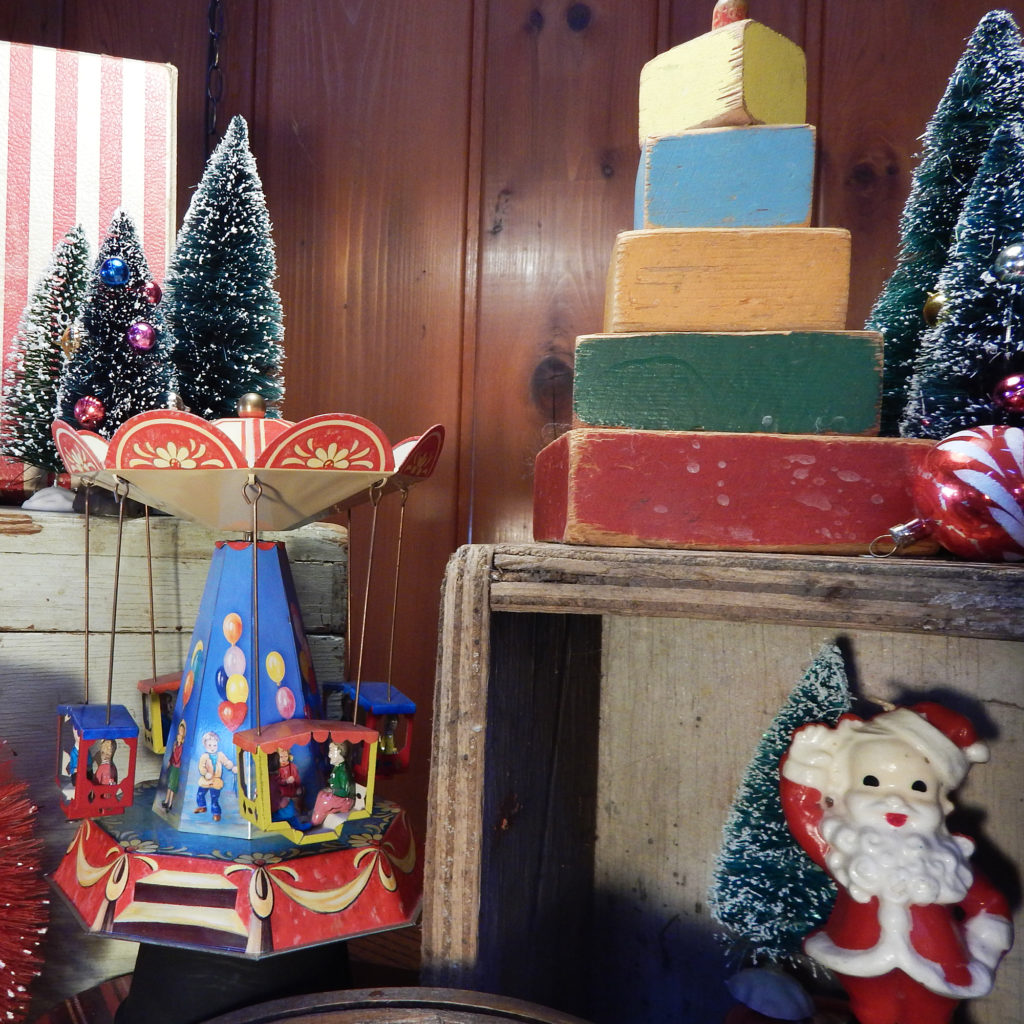 This gorgeous Wagner/Brunn tin litho spinning gondola carousel is a reproduction of an original West German toy from the post WWII era. This Royal Balloon carousel was made in Germany in 2002 and still works!. The graphics of children holding balloons are beautiful, and the exceptionally detailed gondolas and riders lift high as they spin around the balloon tower. (This magnificent collector's toy is not meant for young children.)
And speaking of toys, is there anything better than the old polychrome painted toys us old folks played with in the 1950s and 60s?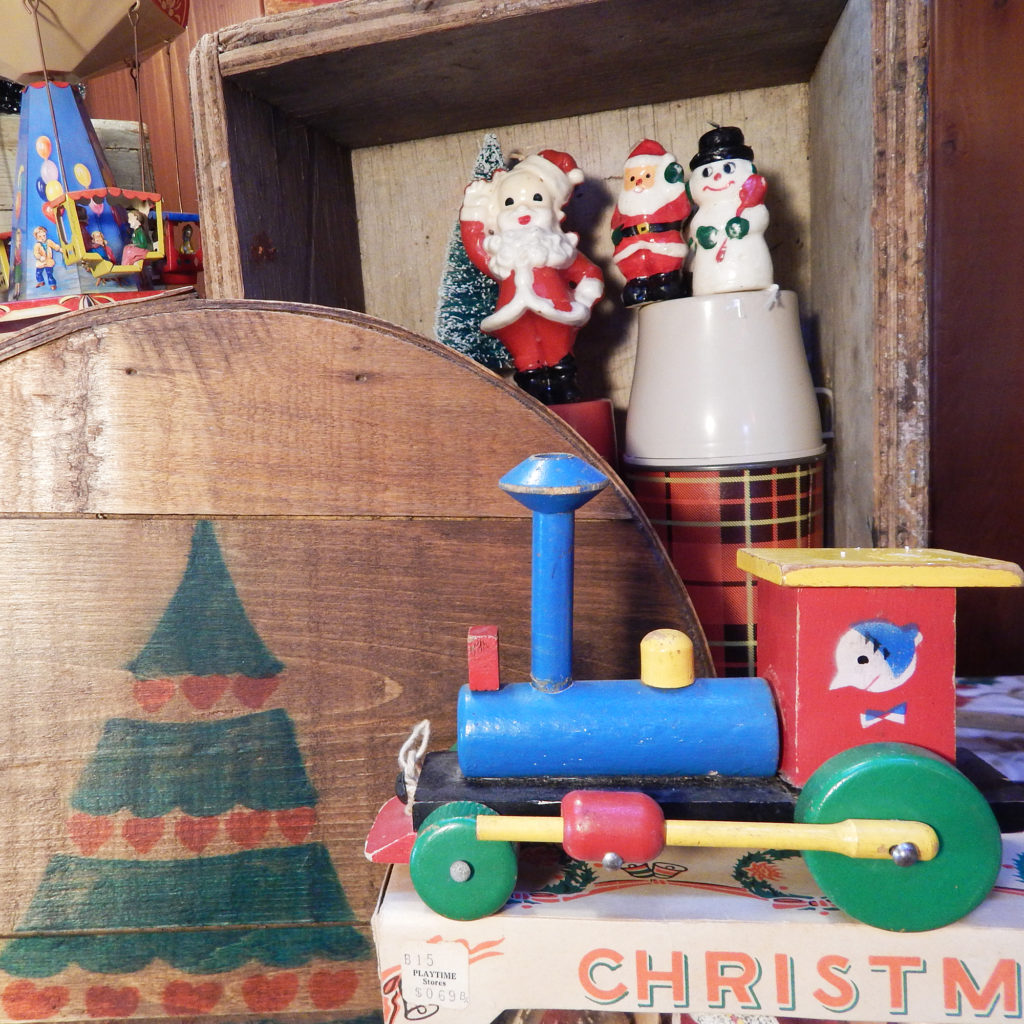 This one especially warms my heart. It is a pull-toy, and when you pull it forward the wheels turn and the pistons chug back-and-forth on the sides. So simple and charming. I wonder what today's kids who play with plastic toys that do everything from transform to make noise and flash lights would think of it.
And finally, in case you are interested in primitives, our last featured item in this post is this beautiful shaker pantry box that someone has painted with a Christmas tree with heart decorations. We love its forthright simplicity. Can't imagine a more perfect Christmas decoration for a cabin!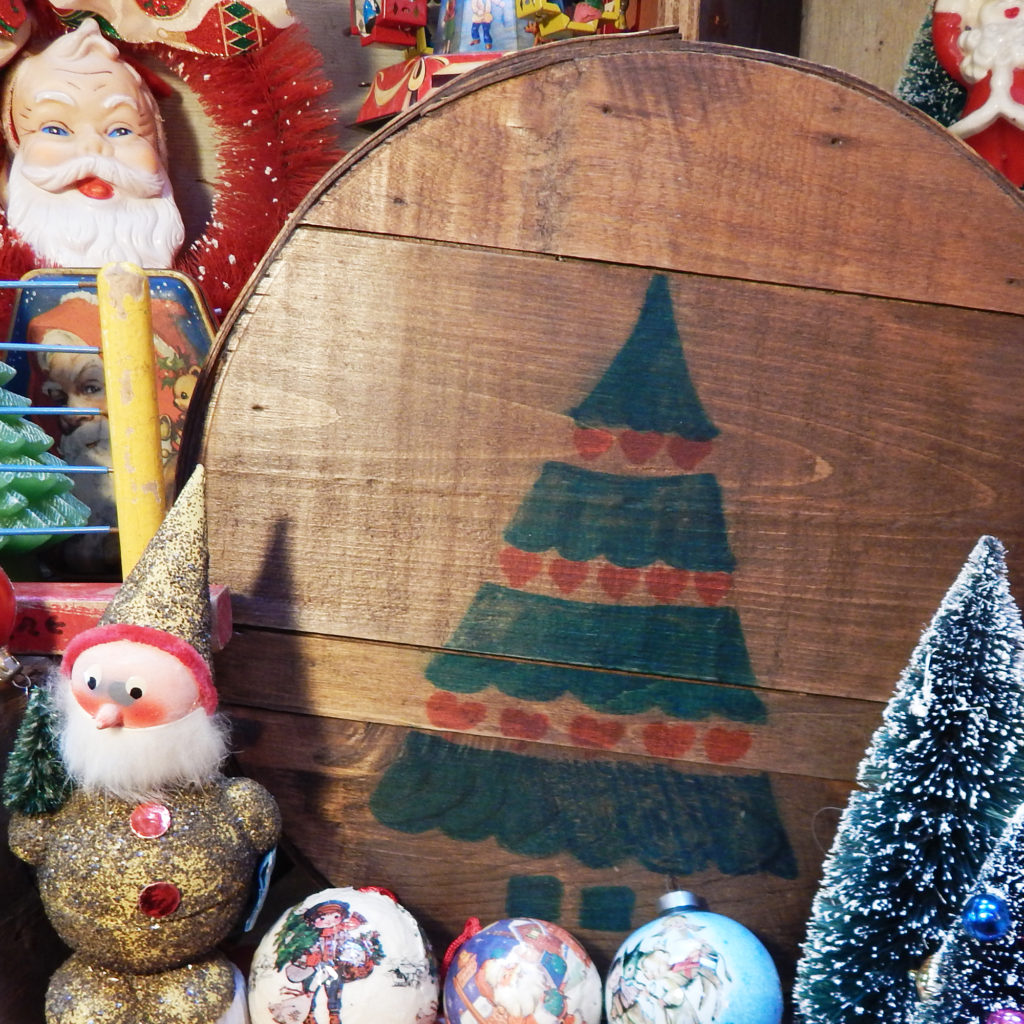 So there you have it. Our first nostalgic Christmas post for 2020. More to come over the next few weeks. Check out the Rustic Christmas section in our Etsy shop often to see what's new!
We wish you a relaxing and peaceful holiday season.