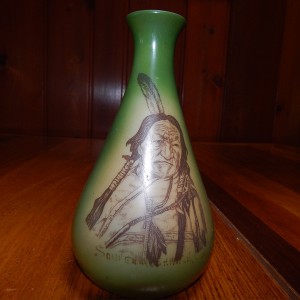 Buffalo Bill Cody and Chief Sitting Bull
Hunting The Wild West Shows for Clues to an Antique Treasure
One of the things I enjoy most about this business is doing research to try and discover where a particular antique or vintage item might have come from.
We bought this fabulous antique vase with a Native American image from Sauble Beach Antiques on the Bruce Peninsula in Ontario, and the dealer said he had purchased it in the U.S. He told us that the vase was a souvenir from the Wild Bill Hickok wild west show in the 1800s, and that the image was of a performer in the show. (The writing at the bottom of the image appears to read, "Souvenir Shaman".)
It turns out that he was mostly right. Wild Bill Hickok never had a wild west show of his own, but he did perform with the Buffalo Bill Cody Wild West Show for a short time.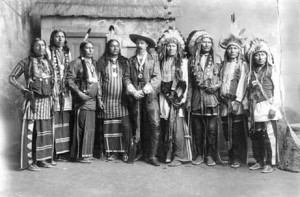 The Buffalo Bill Wild West Show helped create and preserve the lasting legend of the romance of the Old West for Eastern U.S. and European audiences from 1883-1913. The show included many Native American performers who demonstrated their prowess in equestrianism and with bows and arrows, as well as performing dances and reenacting historic battles such as the Battle of Little Bighorn and the death of General George Armstrong Custer.
According to Wikipedia, between 1887 and World War I, over 1,000 Native Americans went "Wild Westing." Most were Lakota and Sioux. During a time when the Bureau of Indian Affairs was intent on promoting Native assimilation, Col. William Frederick Cody (Buffalo Bill) used his influence with U.S. Government officials to secure Native American performers. Cody treated Native American employees as equals with white cowboys.
Wild Westers received good wages, transportation, housing, abundant food and gifts of cash and clothing at the end of each season. Wild Westing was very popular with some Native American tribes and benefited their families and communities. Wild Westing offered opportunity and hope during a time when people believed Native Americans were a vanishing race whose only hope for survival was rapid cultural transformation.
Two of the things I found fascinating when reading about Buffalo Bill and the Wild West Shows were that Chief Sitting Bull accepted Buffalo Bill's invitation to tour with the Wild West Show for one year in 1885, and that the show came to the Pan American Exhibition in Buffalo, New York in 1901.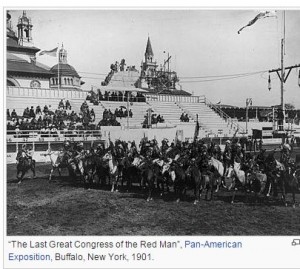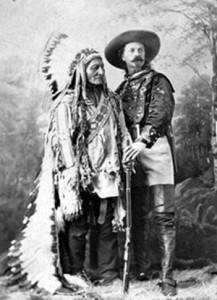 If you look at the photos below, you'll see that the image of Sitting Bull looks remarkably like the picture on the vase. Of course we don't know for sure, but we're thinking that our beautiful vase is a souvenir of the 1901 Pan American Exposition, and that Buffalo Bill was still using the image of Sitting Bull five years after his final appearance with the show.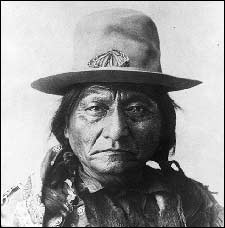 Isn't that interesting? What do you think? Is the image on our vase that of Sitting Bull?
You'll find the gorgeous vase and 25 other new items listed this week at vintageadirondack.com. (To see our newest items, please click on "Shop" in the main navigation. The NEW section is the first one on the page.)