5 Tips for Cozying Up Your Home for Fall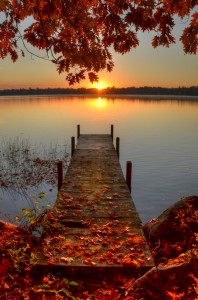 One of the best things about living on a lake is that seasonal changes are so dramatic and lovely. The light has changed over the last few days here in the northeast, tilting toward the welcome cool of autumn, and we've swapped our light cotton blankets for snuggly quilts.
Fall is gorgeous at the lake with the leaves starting to change and the luminous sky and clear water. It puts us in mind of all the delights to come, long drives and leaf peeping, apple picking and warm cider, pumpkin festivals and big bowls of chili, and sitting on the porch in the crisp autumn air with a wool blanket and a great book.
Rustic rooms feel even cozier with the addition of autumnal accessories and natural found objects. Here are 5 tips for bringing the glory of fall indoors without spending a fortune:
1.  Fall gourds and small pumpkins set the tone for fall decor and are available for next to nothing at farmers markets. Put together a little display for your mantle or table with a few glowing candles and an old pottery vase filled with natural elements like autumn foliage and branches.
2. A roaring fire warms a room like nothing else. If you are lucky enough to have a fireplace (even if it doesn't work), bring in a stack of firewood and store in an old copper boiler or wire basket. If nothing else, it will help you imagine the wood smoke and envision the coziness you crave.
3. Adding vintage details will also add comfort and coziness to your living space. You may have cleared the decks for the sparse and clean look of summer, but fall invites us to clutter things up a bit for comfort. Think about what you might have packed away that could make a reappearance to delight you. Do you have an old teapot or quilt that belonged to your grandmother? Haul it out and enjoy it. If not, make a visit to a thrift shop or flea market. You'll find treasures you'll love for very little cash.
4. Cooler weather calls for cozying up with blankets, throws and cushy pillows in rich fall colors. We love draping patterned camp blankets and plaid wool throws on couches and chairs and stashing them in baskets all over the house to warm up the space, and you!
5. Decorate your front door with abundant and affordable mums in rusty old pails or terra cotta pots mixed with a hurricane lamp or two and a few pumpkins. A cascading display down the steps makes for high impact with only 5 minutes of effort.
We're adding new items to our comfy and cozy fall collection all the time at vintageadirondack.com. Come on over and see all the rustic accessories that will make your fall decorating easy and fun! Please visit our Shop section at https://vintageadirondack.com/shop/ to see what's new!
Enjoy falling into autumn!