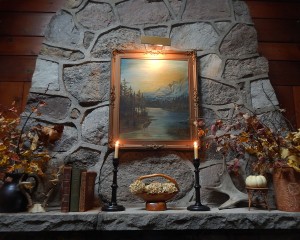 It's easy to get intimidated by the wide expanse of a fireplace mantel and stymied as to how to decorate it to make it the focal point of a room.
But the truth is that mantel decorating is painless if you follow if you follow these 5 simple steps:
1. Start with a color scheme. Since it's fall, you might want to incorporate fall leaves, pumpkins and gourds into your mantel. Think about earthy colors and pieces in warm wood tones. Not only do they reflect the season and help to bring the outdoors in, they also offer a rich and earthy vibe that fits perfectly in a cabin or rustic home.
2. Select one stand-out piece to build your mantel around. I love this vintage hand carved sculpted wood bowl, with its fish and beaver carvings and beautiful golden patina.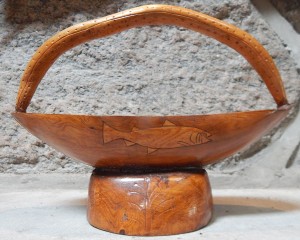 3. Use some vertical pieces to bring your guests' eyes up. Whether you have a mirror, a painting or a pair of moose antlers over your fireplace, it's a good idea to connect it to the decorative objects on the mantel surface with a couple of items that draw the eye up. These lovely antique wood candlesticks are nice an tall and do the trick.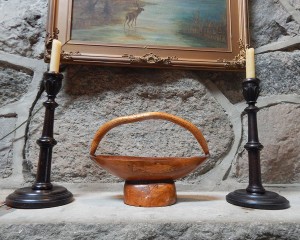 4. Your mantel doesn't need to be symmetrical, but it will feel more cohesive if it is balanced. This gorgeous native made decorated birch bark container is a wonderful vase for fall leaves and will serve as the perfect anchor for one side of the mantel.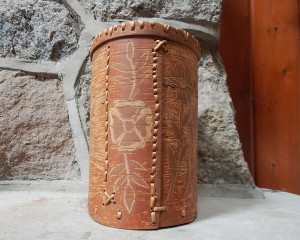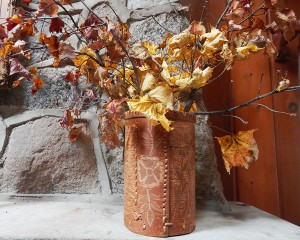 Old leather bound books always look great on a rustic fireplace mantel and these three in brown and green are just right for our color scheme. For balance, we can add them on the other side of our central focal point.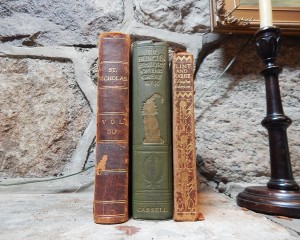 5. It's always fun to add something unexpected to a mantel, and the shape of this gorgeous vintage moose antler is a great way to add to the rustic vibe and connect the birch container to our central objects.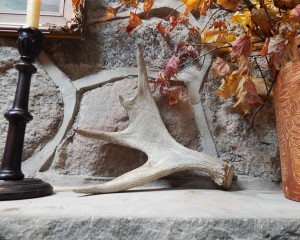 And by adding this adorable salesman's sample wicker table  we can elevate our pretty white pumpkin, creating more visual interest and filling our space nicely.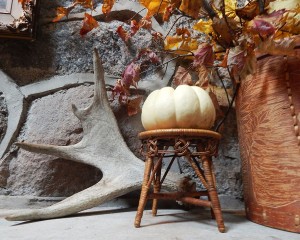 Now it's time to take a step back and see how our mantel is looking.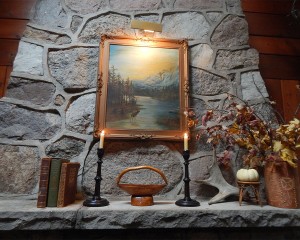 And we can see that while the right side of our mantel looks complete, we still need balance on the left hand side. Something tall will balance our birch bark container. This brown stoneware pitcher will do the trick and allow us to add more fall leaves.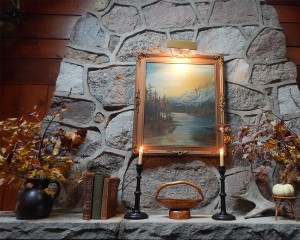 Now there's just one gap left, between the pitcher and the old books. Since it's nice to create relationships of color and shape between objects on a mantel, another antler will help us pull everything together. This lovely small standing antler is perfect.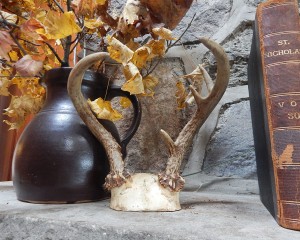 And we're done! Our mantel is complete and absolutely gorgeous!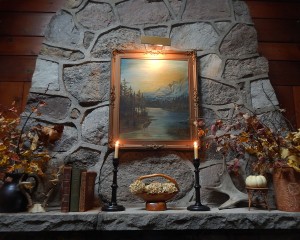 We hope you can find a little time to create a warm and welcoming fall mantel in your home this year with objects that tell your story and bring you joy.
And as always, if you need a little help finding that perfect piece to bring it all together, we hope you'll come visit us at vintageadirondack.com. Happy Thanksgiving!