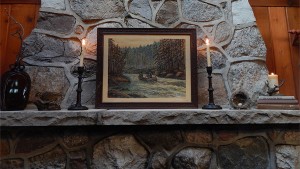 Decorating a fireplace mantel that is the focal point in the room can sometimes feel a bit intimidating. If you're like me, you look at the beautiful mantels in Country Living and Better Homes & Gardens and think, "why can't my mantel look like that?" Now it can with our 5 easy steps!
The trick is to treat your mantel as if it were a collage. Place one piece, then stand back and see what it needs. Selecting a few of your favorite objects that have great shape and form personalizes your mantel and gives you nice things to gaze at, which will make you feel happy when you look at it.
Here's how we went about decorating this rustic, organic mantel for a balanced, but not symmetrical look.
First we selected the central piece, a beautiful canoeing water color we bought recently at an antique auction. The painting sets the outdoor theme for the mantel and provides a brown and cream color palette to work with.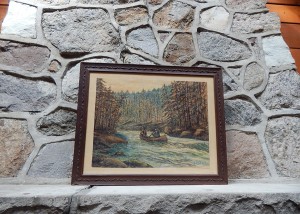 Next we added two old wood candle holders that have a leaf pattern at the top, and added golden cream organic beeswax candles to complement the colors in the picture and frame. We placed the candles on either side of the painting for a little symmetry and order, but will balance it out with objects of varying heights and widths on the sides to provide visual interest.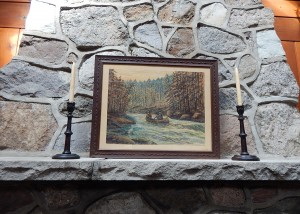 Now that we have the mantel anchored, the fun part can begin. Including small found and organic objects will let the main artwork be the center of attention while making the mantel feel complete and adding personality.
I love this old elk head candle holder, and bought a matching beeswax pillar candle to complement our palette. Instead of just setting it on the mantel, I put it on top of a couple of brown covered hunting books to give it height and weight and continue our outdoors theme.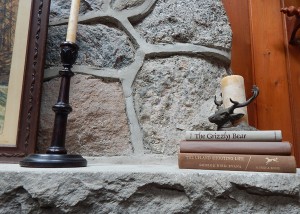 There's still a little blank spot on the right, so I added the sweet bird's nest and empty egg found in our yard to fill the void and add to the natural found object feel.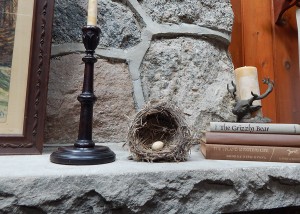 Now, what to do on the left hand side? One of the tips designers use is to include something vertical to draw the eye up. The organic shapes of branches will keep the mantel arrangement casual and organic. I thought of this beautiful old brown wine jug from 1933 that has a western horseshoe look and went out in the woods to clip a few interesting curvy twigs. The shapes contribute to the balance of light and heavy objects on the mantel.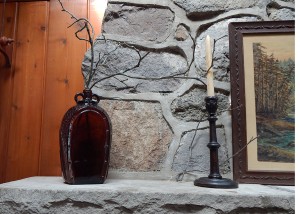 Now there's another small blank space, so I added our favorite taxidermy meadowlark to fill the void and add some natural gentleness.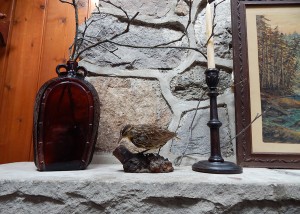 And that's it. Our perfect rustic mantel!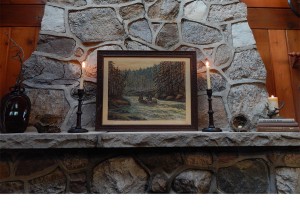 Here are our five tips to help you create your own perfect mantel, rustic or not!
1. Treat your mantel like a collage, start with one central piece, then step back and see what it needs.
2. Select a few of your favorite objects that have great shapes. They will make you happy just to look at them.
3. Choose a color palette of two or three colors and repeat them throughout to tie everything together.
4. Choose objects of varying heights and widths to provide visual interest. You want a balance of light and heavy elements.
5. Include something vertical to draw the eye up.
Above all, trust your eye and have fun! We'd love to hear about your mantel decorating project. Please leave us a comment with your thoughts. Bonus points if you include a photo! As always, the beautiful items on our mantel are available on our website at vintageadirondack.com. If you want to see them all together, please visit our Shop section and click on "Sort by Newness" from the dropdown menu on the right.