There are finally some signs of spring here in the Northeast. A few delicate crocuses are up …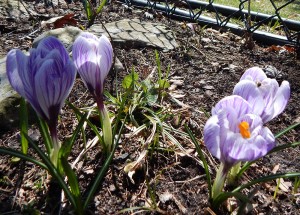 The daffodils are on their way …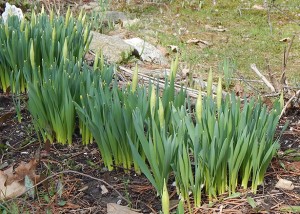 And best of all, the robins have made their nests. They are always the earliest around here. The first time I walked by this lovely little nest in a shrub along our fence line, four bright blue eggs were visible …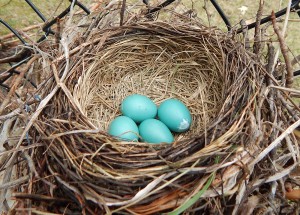 But on the way back, Mom was back on the job, keeping those babies warm!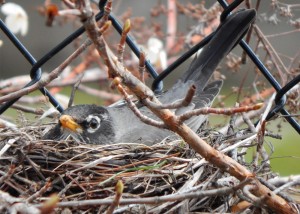 Of course, the lake still looks like this …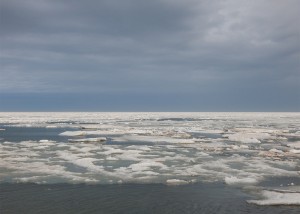 But I guess we should be happy the ice isn't 3 feet thick any more!
With the coming of spring, the antique shows start up again, and we went to our first one this past Saturday. The Elora Vintage & Antique Show is in Western Ontario near Guelph, and is a highlight for collectors from Toronto to Windsor.
On our way we passed through the Jordan Valley, home to tons of beautiful old fruit orchards and vineyards, with dozens of wineries to visit, and some truly great wine.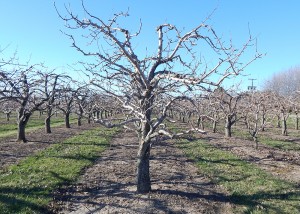 Then it was on to farm country, and we were surrounded by the most picturesque old barns for the rest of the two hour drive …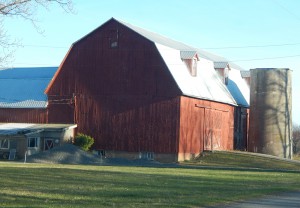 There was lots to see at the show including this stunning vintage and antique quilt booth …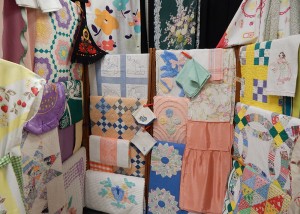 and these awesome antique toys. Unfortunately we couldn't take more pictures because it was so crowded with people you really couldn't see the displays.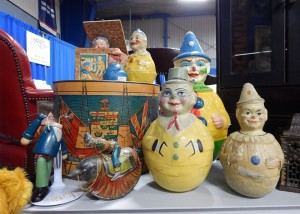 We bought three fabulous things, and we'll be looking forward to seeing a lot of these vendors again at other shows. After a couple of hours we headed for the Market Road antique mall nearby.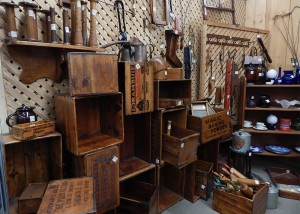 There were lots of great finds and great prices at Market Road, and we picked up seven more items there, for a grand total of 10 fabulous finds for the day. Here's our haul …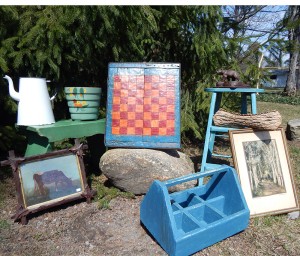 All of these items will be listed for sale on the website at vintageadirondack.com this Thursday. To see them all together, please click on our Shop section and select "sort by newness" from the dropdown menu on the right. We'll be going to two more huge outdoor antique markets in May: Aberfoyle, Canada's oldest antique market, near Guelph on May 9; and the granddaddy of them all in Ontario, the Christie Antique Show, near Dundas on May 23. Stay tuned for lots more treasures!
By the way, we know that not everyone lives near the antique shows that we love to explore, so if you are looking for something in particular please let us know and we will keep an eye out for you 😉