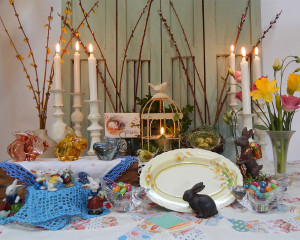 The warmth and coziness of rustic decor lends itself to holiday celebrations when family and friends gather for the most special and memorable occasions of the year, and our rustic Easter party is one of our favorites.
Our family loves our traditional Easter brunch and egg hunt, which sometimes takes place outdoors and other years is confined to the house (like this year, unless the snow melts pdq!)
I'm not sure who has more fun on the egg hunt, the children, or the adults, who always end up jumping in to help the little ones, much to the indignation of the older kids who are shocked at the unfairness of it all!
Spring is the time we celebrate nature and the reawakening of all the creatures and growing things outside after their long winter sleep. And since one of the basic elements of rustic decorating is bringing the outdoors in, the two are a perfect match.
I love gathering spring flowers and plants together with vintage treasures to make a rustic Easter display on a table or sideboard, and this year, for the first time, I'm excited to share it with you. Let me know what you think!
All of the vintage items pictured below from our display are available on our website at vintageadirondack.com. To view all the Easter listings together, click on the Shop section and select "Sort by newness" from the dropdown menu at right.
From our family to yours, Happy Spring!