There's no rule that says rustic bathrooms need to be dark. In fact, the bathroom is one place in a rustic home where you might want to lighten up a little.
We bought a beautiful antique Edwardian shelf last month at an auction, and that, combined with the promise of spring (soon, please!), got my creativity flowing and I scrounged up a few elements to put together a rustic yet fresh and cheerful display. Included are my favorite McCoy pinecone planter, a couple of old medicine bottles and a picture holder I made from an old crystal salt shaker and a piece of wire, holding a 1920s vintage postcard.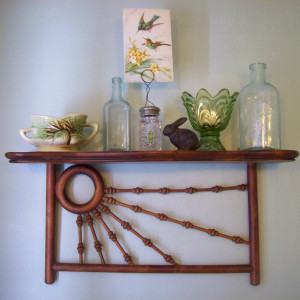 Vintage, natural and rustic elements can work together to create a calming and comfortable space in the bath. Looking to nature for design inspiration and using natural materials like salvaged wood, stone and metal preserve the rustic feel and give the room character and warmth. Finding old treasures and repurposing them adds interest and each piece tells a story.
Rustic bathroom accessories can be plentiful, especially if they are distinctive. Oil lamps or candles, flower vases, baskets, glass apothecary jars, beveled mirrors, vintage pictures… everything that seems to come from a time long ago will add style to your room.
Here are some beautiful rustic, yet light and airy bathroom ideas that might provide some inspiration.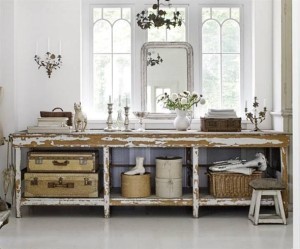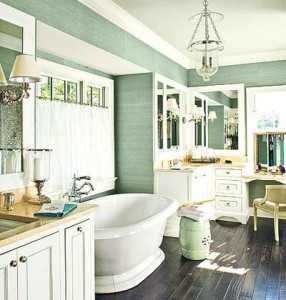 Freestanding or old clawfoot tubs are a great way to add to the vintage rustic vibe.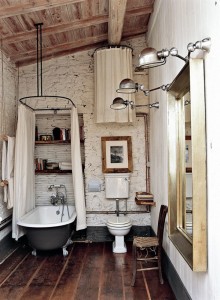 Wood floors add to the rustic look and don't darken the room if the walls are light. Vintage or industrial style lighting adds to the simple, primitive look.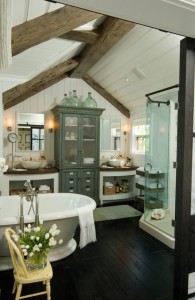 Repurposing an old medical cabinet into a linen cupboard is an inspired way to get a rustic, yet sophisticated look. Something as simple as an old painted chair can add whimsy and ground the simple rustic style.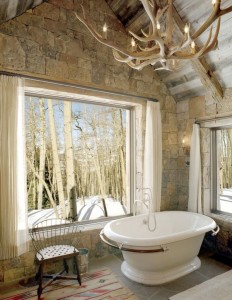 Using hand woven Navajo or kilim rugs is a great way to add color to a rustic bathroom. Another key is bringing the outside in with large windows and light and airy window treatments so outdoor views are unobstructed.
Find many of these inspiring elements at vintageadirondack.com!