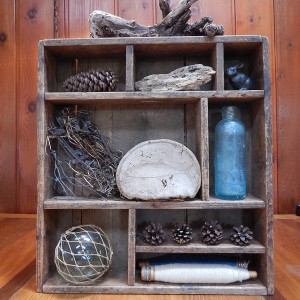 Let's face it, none of us can improve on Mother Nature. Her shapes and patterns are not only beautiful, but familiar and comfortable.
We are absolutely in love with the concept of organic decorating, which combines rustic, vintage and natural elements to create a calming living space. Focusing on the Earth's beauty by accessorizing with natural found objects helps us feel most at home.
It's easy to blur the line between outdoors and indoors by using rustic materials, neutral and earthy colors, natural beauty and lots of light and vegetation.. Walks can reward you with genuine bounty from a twisty, tangled branch or sculptural piece of driftwood to a collection of pine cones or colorful stones, and introduce a certain softness and balance. Our busy lives crave harmony and creating a soothing sanctuary in our homes helps us detach from the pressure of deadlines, cellphones and the always-on demands of our hectic lifestyles.
Though it is nice to have a theme, you don't have to group your displays based on elements that are found in the same environment. We created this organic display by selecting a watery blue, natural cream and organic brown color scheme. We selected a few pieces from our collection, available at vintageadirondack.com, including an organic fish etching, an old bottle, vintage industrial yarn spindles and a fishing float, then collected found objects from around our cottage like pine cones, driftwood and plant matter washed up on the lake shore. Natural objects complement keepsakes and flea market finds to create an unstudied, collected look.
We wish you a relaxing and enjoyable Memorial Day weekend, with no rushing or stress. Not only is it a wonderful time to spend with family and friends, but it is also a time to reflect on the sacrifice of those who have served to protect our great country.