Waiting (and waiting!) for Spring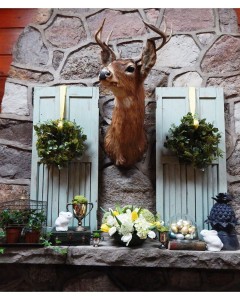 It's been a miserable March.
The days have been grey, the temperature has hovered around freezing, and the lake still looks like an ice bath. It may be spring on the calendar, but here in western New York winter tends to far outstay its welcome.
Since we can't go outside to revel in budding leaves, spring blooms and greening grass (though I did see my first robin the other day, so there is hope!), I couldn't wait another minute to create a rustic spring mantel to cheer things up a bit around here.
We found this lovely young deer mounting at an antique mall a couple of weeks ago. He was tossed onto a chair and looked so forlorn, we had to take him home. Very vintage (probably mounted in the 1940s or so) he has a lovely long neck and beautiful docile expression that to us epitomizes the essence of spring.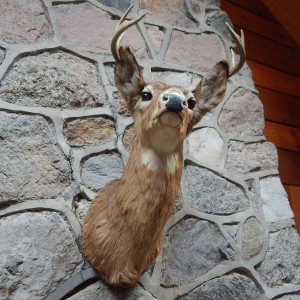 With Bucky in place as the centerpiece, we went hunting for other vintage rustic decor that would round out our spring mantel. We've had this gorgeous vintage planter/vase in our collection for awhile, and with its flower frog insert it made an arrangement of hydrangeas and tulips a snap.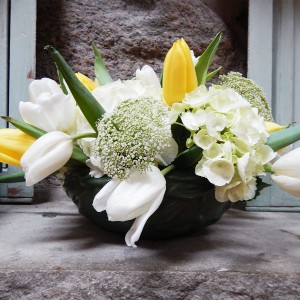 We also found this beautiful (and very collectible!) 1920s Victorian brass Hendryx bird cage, that made the perfect enclosure for some trailing ivy.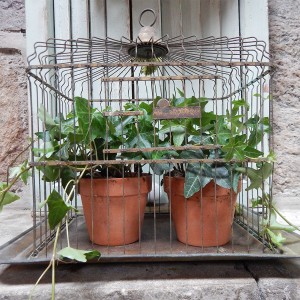 Vintage painted concrete bunnies and Easter eggs in an old cloche that was originally a light cover in an Ontario lighthouse, gave a nod to Easter.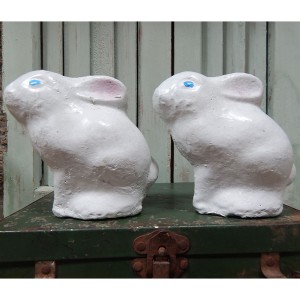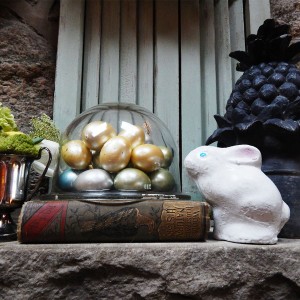 Add some old vintage trophies, a fabulous 1920s divided metal lunchbox with leather handle, and an 1880s copy of Woods Illustrated Natural History, and you're starting get something inspiring.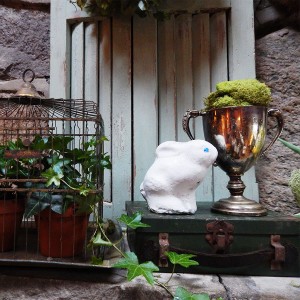 But the finishing touch came when we stumbled upon the vintage pineapple fountain top piece, offered for sale by fellow blogger Katherine at inthevintagekitchen.com. I guess I knew vaguely that the pineapple has long been a symbol of hospitality, but Katherine's description of New England sea captains spearing a fresh pineapple on their garden gates to let friends know they were back from tropical ports and ready to entertain guests had me hooked. Though I would love to keep it for myself, it is listed with all these other spring treasures at vintageadirondack.com.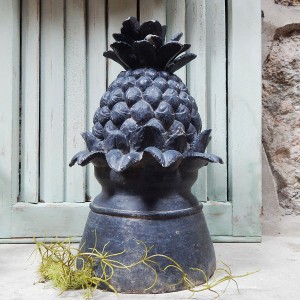 So there you have it. Rustic spring mantel complete. At least now it feels like spring inside, if not outside!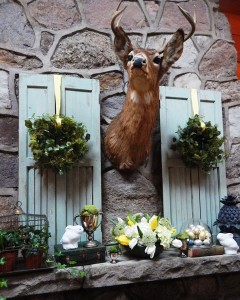 Happy Spring!