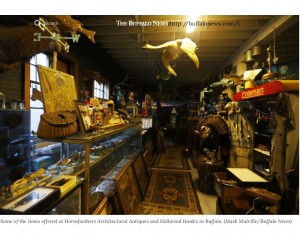 In every city, and many towns there is the antique guy. In Buffalo, it was Hank Sontag.
Hollywood Hank, as he was sometimes known, was a fixture on the antique circuit in the Northeast for more than 30 years. When we talked to antique dealers from Northern Ontario to Southern Pennsylvania, they invariably knew Hank. His warehouses, first a massive six-story building on Connecticut Street and later, after downsizing, a still-huge brick warehouse on Chandler Street, were filled with an absolutely unparalleled collection, from vintage memorabilia and pop-culture artifacts to architectural salvage, mid-century furniture and our favorite; the hunting, fishing and Native American artifacts he kept in a suite of locked rooms known as The Cabin.
It wasn't easy to gain access to The Cabin.You had to be vetted by Hank and deemed to have a true appreciation for the part of his personal collection that was his ultimate passion. Hank was a busy man, and he had no time for the lookie loos who would waste his time with no intention of buying. If you were lucky enough to be admitted to the inner sanctum, you could be sure Hank or his kind and generous wife Cindy would be right there with you the entire time.
To say that The Cabin represented the epitome of what we admire in vintage and antique rustic decor is an understatement. When we were first starting our business, we would sometimes be brave enough to ask Hank to show us around, and we learned so much from him about the really good antiques we should be looking for.
Hank was a bit of a gruff and blustery fellow at first, and as intimidating as hell. We were in awe of his knowledge and his collection and followed him around soaking up his expertise like Grasshopper following the master. We couldn't afford to buy anything from Hank when we were starting out, but when he perceived that we were serious about our business, he agreed to allow us to list some of his "smalls" on consignment at vintageadirondack.com. Of course, they were some of our fastest moving items.
In 2015, Hank acquiesced to the urging of his family and agreed to close and liquidate the business. Hank had turned 70 and had realized he had given up a lot of time in his life to devote to his vocation. He told the Buffalo News at the time, "I don't have a bucket list, I have a barrel list, and I need the time to start doing them."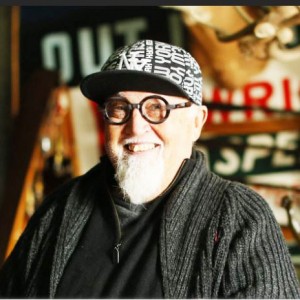 The Buffalo News
But the truth is the business never did really close. Antiquing was in Hank's blood, and the store continued to be open most Saturdays. Sometimes when we stopped by Cindy would be there alone and tell us with exasperation that Hank was at an auction, buying more inventory even after he had agreed to close the doors. He sometimes called the business "addictive."
We hadn't been to Hollywood Hank's for a while, (our first grandson had been born in June and our other daughter was getting married in August), and we were stunned to read last July that Hank had passed away after a short illness. We ached for Hank and his incomplete bucket list, and for his loving wife Cindy. When we met with Cindy at the warehouse in the fall, it finally was cleared out. She had sent most of the inventory to auction. Just a few pieces were left here and there, including some of the smalls she had set aside for us from The Cabin. How kind and thoughtful of her to think of us!
This week's Featured Listings at vintageadirondack.com are the last of the Hollywood Hank collection, and an homage to a mentor and friend we will never forget.
Ellie & Ross