We always feel so lucky when we find one of these Victorian Crazy Quilts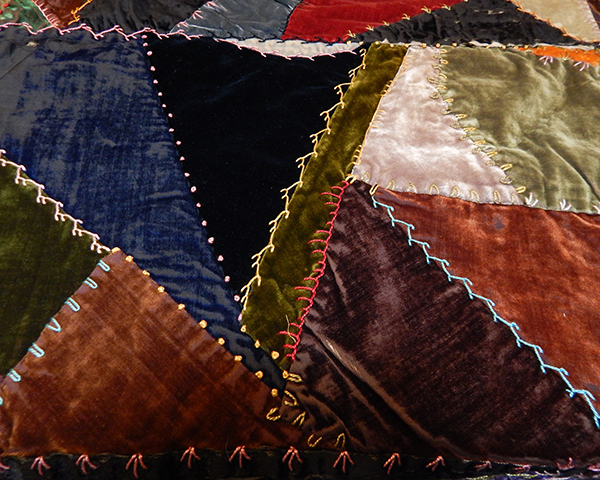 They are true heirlooms of another era,
and give us a glimpse of the lives and times of our foremothers.

The later Industrial Revolution, in the early years of the 1800s, contributed to the ability of women to develop quilting into an art form. American companies had begun manufacturing good quality fabrics and women could afford to buy cloth instead of having to weave it themselves.

Sewing machines also became more affordable for the average family, thanks to the advent of the "layaway plan." Family sewing was accomplished more quickly, giving women more time for fancy pursuits like embroidery and lacemaking.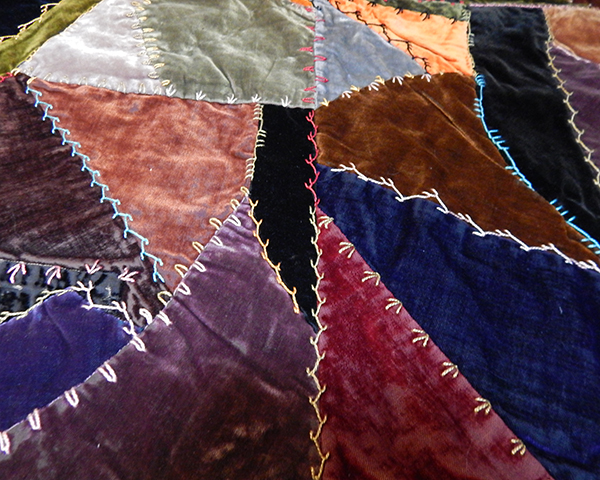 Unfortunately, the Civil War, which lasted from 1861 to 1865, changed everything. Fabrics, if they were available at all, skyrocketed in price. Women's energy went toward caring for their families, rather than fancywork. Some fortunate women who were lucky to be leading somewhat comfortable lives still had the ability to make Crazy quilts, and some were sold at "sanitary fundraisers" in aid of military hospitals.
After the Civil War the Crazy quilt style became associated with elegant fabrics like silks, satins and velvets. By the 1880s these elaborate fabrics began to be more reasonably priced. Packets of silk scraps were readily available from textile companies, who saw the Crazy quilt trend as a way to make a profit on what was previously considered scrap material.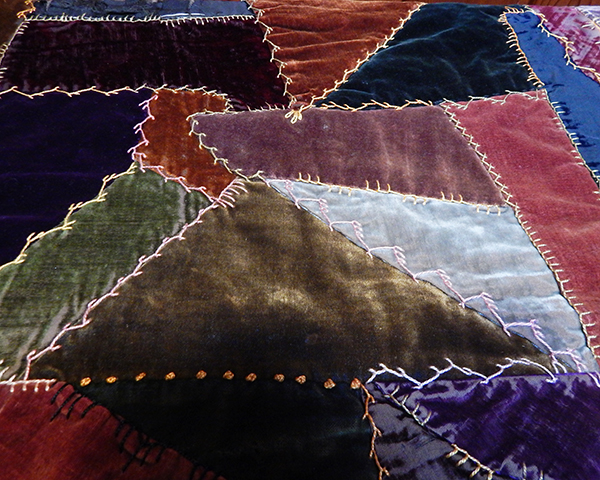 Other companies, including magazines, joined the rush by offering patterns, fabrics, silk threads and other embellishments. Women responded with enthusiasm, and the heyday of Victorian Crazy quilting had begun.
An 1884 book, Crazy Patchwork, asserts, "The so-called Crazy-Quilt, which seemed destined to but an ephemeral popularity, has, within the last few months, gained a firmer hold upon the public mind, so that now the fancy for making such quilts is literally a craze."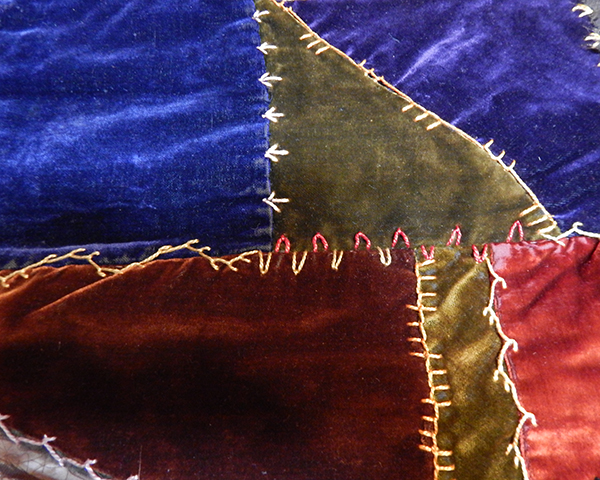 The final major influence on Crazy quilting was the Centennial Exposition, held in Philadelphia in 1876 to celebrate America's 100th anniversary. One of the most popular exhibits was the Japanese pavilion. Americans fell in love with the delicate Japanese porcelains and embellished fabrics. They were amazed by an unusual floor screen, made up of "crazed" or unevenly broken pieces, and highlighted with lavish edges. Soon the "crazed" look of the screen, as well as Japanese motifs, designs and colors, added their own impact to the Crazy quilt trend.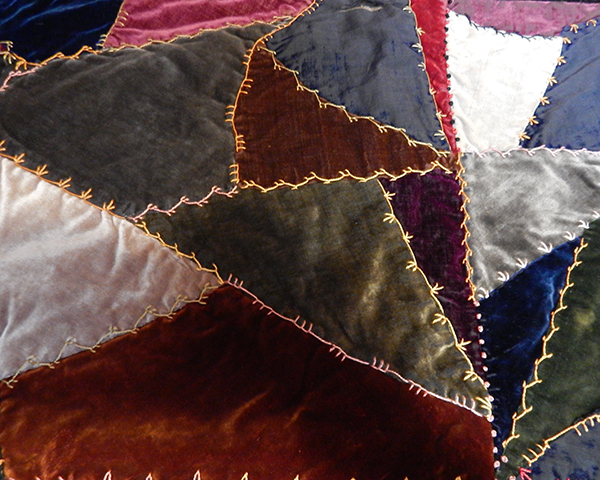 Although Crazy quilts may appear haphazard, they were carefully planned. Hours were spent cutting shapes and trying out various arrangements of the pieces before sewing. Due to the very labor intensive designs, it is estimated that an embroidered crazy quilt could take as many as 1500 hours to complete. That meant the quilt-maker was committing to one to two years' work, depending on how much time she had to spend working on the quilt daily.
All of the photos in this post are of an all-velvet Crazy quilt we currently have for sale in our Etsy shop. Unfortunately its age and the delicacy of the silk velvet fabric has left the quilt with approximately 20 percent of its pieces damaged. We still think it is a treasure.
(Many thanks to Cindy Brick, author of Crazy Quilts: History; Rose Hetchelbach, author of A History of Antique Crazy Quilts; and womenfolk.com for Crazy Quilt History: A Victorian Craze)