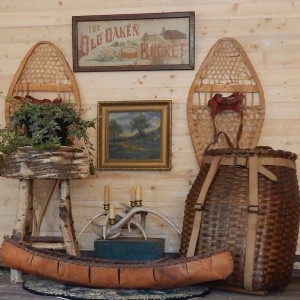 The Thrill (or was it torture?) of the Hunt.
Every once in a while I insist on doing something fairly crazy for our business vintageadirondack.com, and this was one of my more harebrained schemes.
I get Google Alerts every time rustic decor is mentioned on the Internet, and one Thursday in August I received an alert about a huge auction of furniture and historic items from four lodges and camps in the Adirondacks. It sounded too good to be true, and of course I felt absolutely compelled to be there. The problem: the auction was on Saturday, two days hence.
I put my ever-tolerant husband on the task of finding us overnight accommodations in the heart of the Adirondacks at the end of high season, and he spent the day on Friday finding us a place to stay. Previous obligations prevented us from leaving on our mad dash until 7 PM on Friday, and the auction began at 8 AM on Saturday, so there was no room for error in our timetable.
We headed to Albany on the New York State Thruway, and then straight north on I-87. Of course it was dark by then, and I was petrified of hitting a deer on the pitch black and lonely road. Never has a drive seemed longer than those two hours between midnight and 2 AM!
We fell into bed at the no-tell motel and instantly asleep. Sorry, no Trip Advisor four-star review here, the last motel room for a Friday night in the Adirondacks is not apt to be a luxury resort!
Up at 7 AM and off to the auction site to register before the auction began, and to my absolute horror, most of the items for sale weren't antiques or vintage at all, but new! I almost cried. I had literally put us through torture to get here, and now there wasn't going to be anything for us to buy!
While they auctioned off the contents of a fishing tackle store for the first interminable hour, (picture thousands of plastic bags of new fishing ephemera) we walked and walked the auction site looking for a few good pieces to bid on. And, here and there, we found a dozen or so real treasures: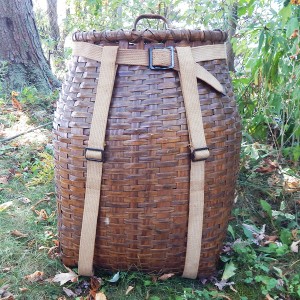 A gorgeous antique pack basket: https://vintageadirondack.com/product/vintage-adirondack-pack-basket/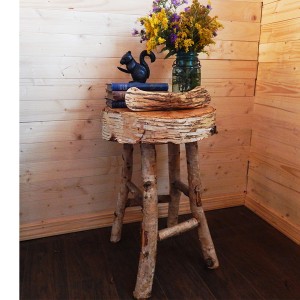 A beautiful birch side table with burled wood top: https://vintageadirondack.com/product/vintage-burled-wood-side-table/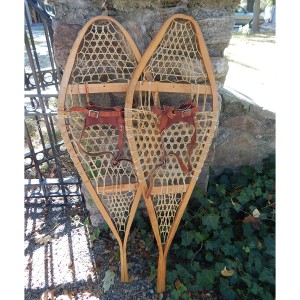 A pair of authentic Adirondack snowshoes in incredible shape: https://vintageadirondack.com/product/vintage-wood-snowshoes/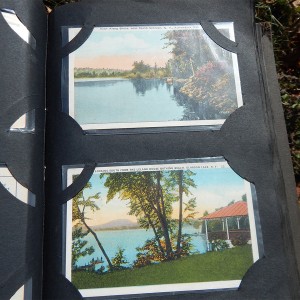 An incredible vintage postcard album of Adirondack scenes from the early 20th century: https://vintageadirondack.com/product/antique-adirondack-postcard-album/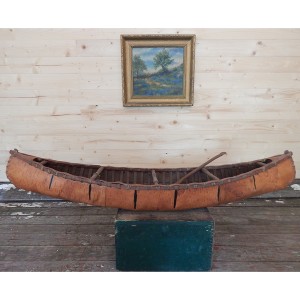 The biggest and most beautiful vintage white birch canoe we've ever seen: https://vintageadirondack.com/product/large-vintage-white-birch-canoe/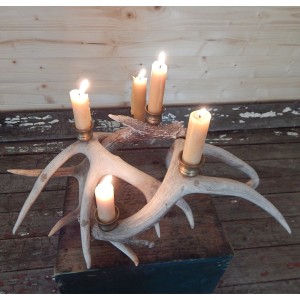 A truly gorgeous vintage natural antler candelabra: https://vintageadirondack.com/product/vintage-antler-candelabra/
And the piece de resistance, a spectacular antique maple dresser, meticulously decorated with a fabulous birchbark and twig design: https://vintageadirondack.com/product/vintage-twig-and-birch-bark-maple-chest/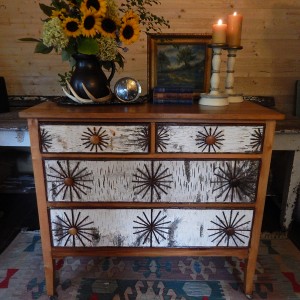 Moral of the story: When life hands you lemons, grab tequila and salt! And when you drive all night to get to an auction, (of the 26-hour trip, we spent 14 in the car!) find something to buy to make it all worthwhile!
All of these incredible, (and arduously collected!) items are available now on our website at vintageadirondack.com.