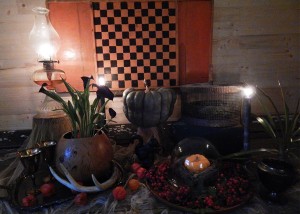 We've always loved Halloween!
In fact, when the kids were young, we spent weeks decorating the house and creating the "Tunnel of Terror" in our front yard to scare the pants off the neighborhood kids during our annual Halloween party.
But now that the kids are grown and our grandson, at 4 months, is a little young to enjoy the festivities, we have to get our Halloween thrills by collecting and curating darkly beautiful rustic antiques for frightful fun.
Here's a few of our favorites, perfect for your Halloween decor, all available now on our website at vintageadirondack.com:
Can you believe we found an orange and black antique game board? Yep, and it's the real deal. We bought it in Quebec over the summer and we've been waiting for Halloween to unveil it!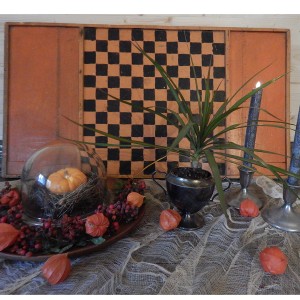 And how about this? Anyone can put pumpkins and gourds on display, but only you can have a hollow gourd with two gorgeous hunting dogs lovingly drawn on each side in black ink.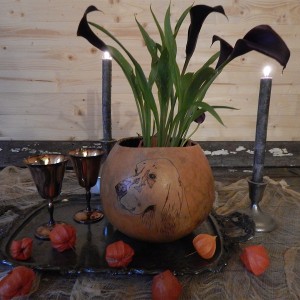 Must have for Halloween decor is a glass cloche to display a festive little vignette. We used a tiny pumpkin in a bird's nest from our yard in ours. This thick antique glass dome was apparently part of a local lighthouse, though we don't know what purpose it served. We set it on a mid-century wood tray that can be used to add to the display with fall leaves, acorns and berries.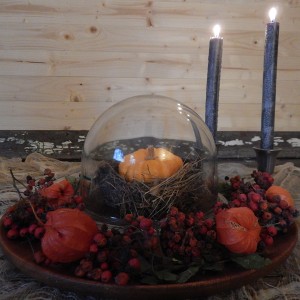 We're not sure what this handmade farm implement was used for, but it definitely has a frightful primitive look. Might have been a pen to corral newly hatched baby chicks, or some kind of fly screen, possibly for a milk pail. It looks spectacularly sinister with a half a dozen (LED) votive candles inside!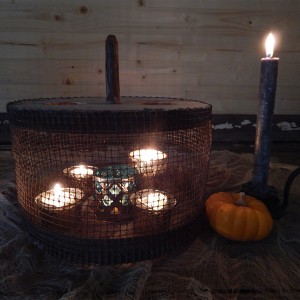 And of course, tarnished old silver has the perfect look for a spooky setting. This old trophy cup, and elaborate handled tray, with flickering black candles and votives make for a sophisticated, eerie tablescape.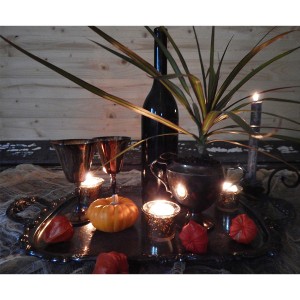 Come on over to our website at vintageadirondack.com to see our creepy All Hallows' Eve collection and have a spooktacular Halloween!