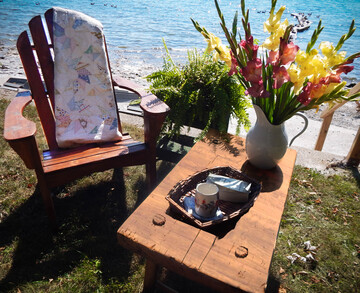 Every morning …
except in the dead of winter … I get my first cup of coffee and go outside to sit in the Adirondack chairs and look at the lake. The scene is different every day. Sometimes the lake is placid and calm, others rough and choppy. I find just sitting and looking, feeling peaceful and grateful, is an energizing way to start the day.

I've never had the opportunity to create this kind of a morning ritual before, because for the 20 years we have owned our cottage, I have always been up and rushing off to work without a moment to spare. I can't tell you how hard it was to drive away from the lake and into the city on those beautiful summer mornings, especially since my husband and daughter were happily snoozing away. The only thing that enabled me to do it was knowing that the money I was earning was making this wonderful lifestyle possible for our family.

Having a peaceful place to relax is so essential to our well-being. We live in a society that is overworked and overstimulated, and the hectic demands of our busy lives often keep us from finding a moment for calm and reflection.
Being outdoors and connecting with nature, watching the sun sparkling on the lake or filter through the leaves, has such a restorative effect on our health and well-being. In fact, a seminal study published in the journal Science, showed that the recovery rates of hospital patients were better among those who had a view of a natural scene.
The notion that the fresh breezes, dappled sunlight and fragrant greenery of outdoor spaces can be good for what ails us has its roots in ancient tradition and common sense. A connection to living things and being close to water is highly beneficial for our mental and physical health. Of course, not all of us can live near a lake, ocean or river, but by incorporating a garden or water feature into your outdoor space you can enjoy the restorative effects of a natural environment.
So where's your spot? Can you set aside a shady spot in your garden, backyard, or even balcony where you can create a little sanctuary for yourself? Can you find a comfortable outdoor chair, a small table and maybe a fountain to add the soothing sound of trickling water? Can you give yourself the gift of a few moments of time and a couple of little luxuries like a delicious cup of coffee and a good book? If you can incorporate a calm area into your home, I promise it will be life-changing.