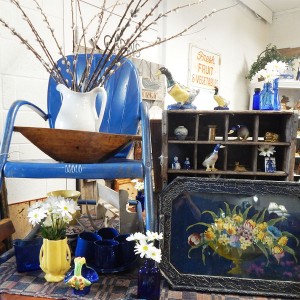 There's something mysteriously energizing about cobalt blue, and it feels just right now that spring has finally arrived.
This is our new Vintage Adirondack display at our retail location at Beach Town Antiques in Ridgeway, Ontario. The cobalt blue and yellow combination feel fresh and joyful, and the simple white daisies add just the right light natural touch. With spring in mind, we've gathered some vintage cobalt blue home accessories at vintageadirondack.com to add a little zing to your spring!
It's easy to invigorate your home with a pop of color using repurposed items with a charming vintage look. A simple kitchen scale like this one becomes a dramatic focal point with the addition of cobalt blue bottles, a vintage yellow vase and some daisies.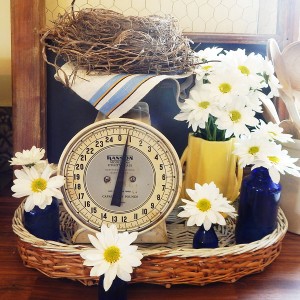 Bringing the outside in is always a good idea, especially in springtime when the flowers are finally starting to bloom after our long and dreary winter. There's a profusion of daffodils in our yard right now, and this fabulous cobalt blue pitcher sets them off perfectly.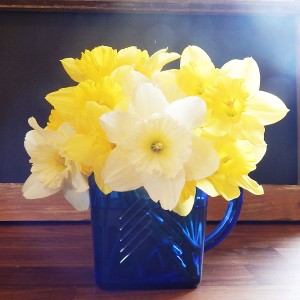 For a quick refresh in your home, sometimes it's just a matter of looking around at your current decor and seeing items you've had for a while in a new light. This lovely hand painted Victorian tray has been in our inventory for a while, but now that we've created this blue and yellow theme it becomes the showstopper it was meant to be.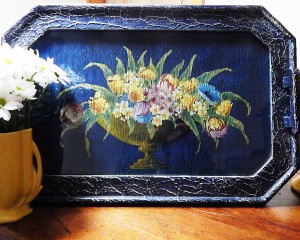 This old bottle crate makes a fabulous shadow box display for a collection of colorful miniatures. Starting with a color scheme, like this one in blue and white, helps hold the display together and makes it restful on the eye while still adding a bright splash of springtime color.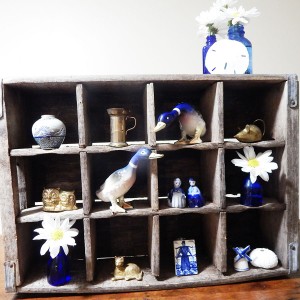 Vintage blue bottles are also perfect for beach decor and are an inexpensive way to create a coastal vignette with a few shells, some wicker, and a candle or two. The freshness and cool boldness of the color will bring the feeling of the cool blue sea into your home.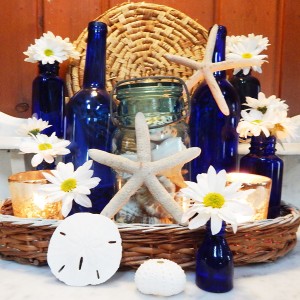 And speaking of beachy, we had this fabulous old salesman's sample case all decked out for Christmas a few months ago, but now we're loving it as a display for our fabulous vintage Japanese fishing floats!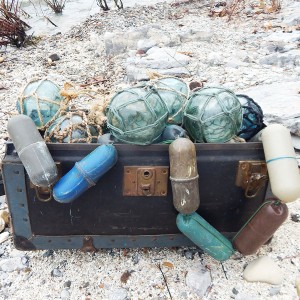 Another fabulous cobalt blue find is this little step ladder, which is just the perfect piece for a corner of the porch or kitchen, and a great way to display some colorful plants.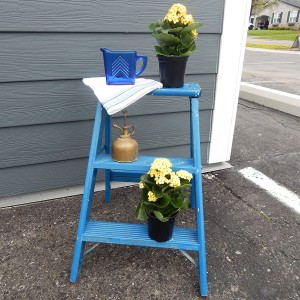 By far the most interesting and unusual treasure we found during our springtime search is this vintage porcelain electrical insulator with a gorgeous cobalt blue glaze. Very rare, this large insulator seems the perfect planter for a garden. You could even bury the sand-covered narrow bottom in the ground and just have the blue bowl visible if you like.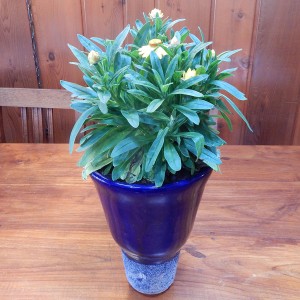 What started this cobalt odyssey for us was finding this fabulous 1940s "Tulip" metal lawn chair with its classic cantilevered design. It brings back memories of Grandma's lake house and old black & white photos of Mom & Dad's backyard barbeques. According to lawn chair historian Louis "Skip" Torrans, who wrote the book A History of the Metal Lawn Chair, the rise of the lawn chair is owed in large part to the growth of the suburbs after WWII, when owning a single family home with a backyard became much more achievable for middle-class Americans.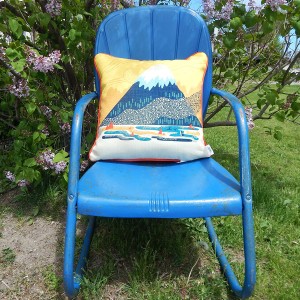 And we couldn't believe it when we discovered this quintessential vintage chair exactly matched an antique wood foot stool we've had for awhile. Found in difference places at separate times, the two look like they were made for each other! They are the perfect color punch for your porch or patio this summer!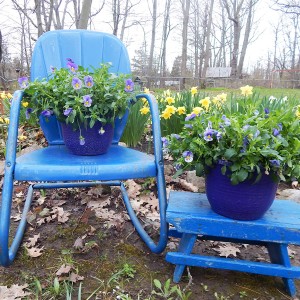 So if you're looking for a little wake-up for your home this spring, head on over to vintageadirondack.com and try a shot of energizing cobalt blue, maybe even paired with some bright yellow. We guarantee it will make you smile and brighten your day! Here comes the sun!