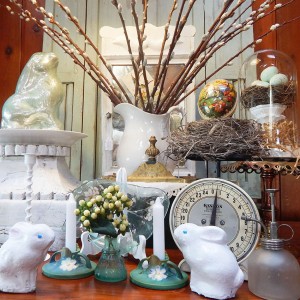 When springtime finally rolls around, many of us are anxious to replace our cozy and comfy winter decor with light pastel colors, natural found objects and fresh flowers.
Granted, you can go to the big box stores and buy colorful spring decor by the bucketful, but we prefer to hunt around flea markets and antique shops and put together vintage spring decor with a natural vibe and a bit of soul. We think it adds to the specialness of the season if we include quirky objects, antique and vintage relics and rarities, natural bird nests, and conversation pieces that remind us of celebrations past and hark back to Grandma's house.
Featured at vintageadirondack.com this month are some of the special items we've collected for you this Spring, so you don't have to do all the leg work.
This vintage kitchen scale makes a perfect platform for Easter eggs: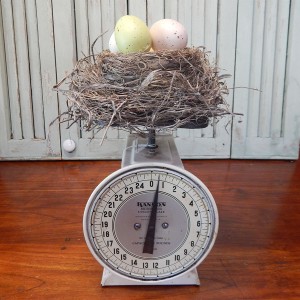 This beautiful white porcelain pitcher is just the right size for a bouquet of pussy willows: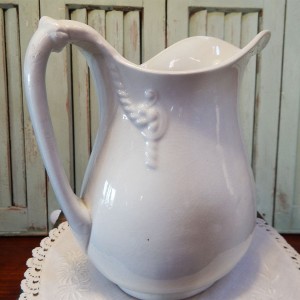 And this fabulous handmade antique mirrored cupboard with mustache embellishment makes a great backdrop: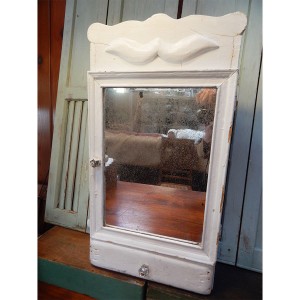 These beautiful Roseville candle holders are just the right color for Spring: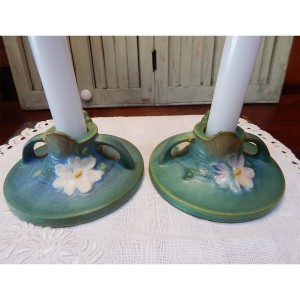 We also put together this bird nest cloche with an abandoned bird nest made by the robins in our garden: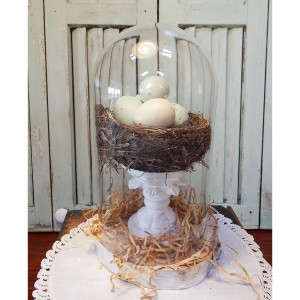 And chalk painted this set of six vintage brass candle sticks for a beautiful candlelight glow: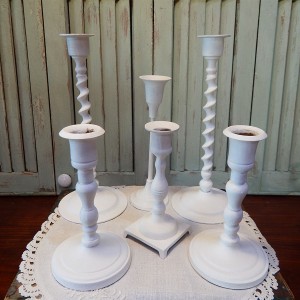 We couldn't resist this beautiful hand painted leaf shaped glass tray with lovely pink and white cherry blossoms: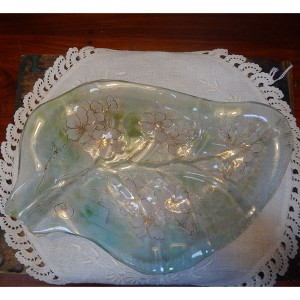 And this fabulous antique hand blown glass gum pot from Australia made the perfect bud vase: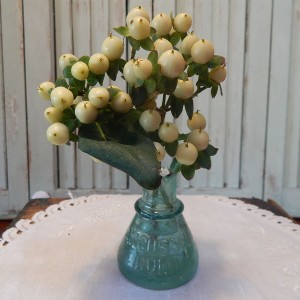 This old brass ornament almost has a religious feel to it, and its floral etching is just right for Spring: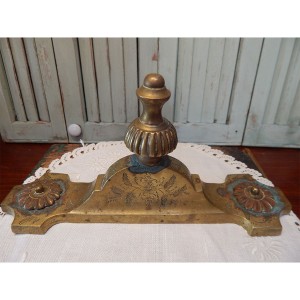 And this original vintage plant mister is perfect instead of a reproduction: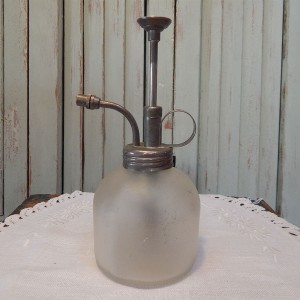 This awesome copper and brass kettle stand would make a great cake stand for a fabulous Easter dessert: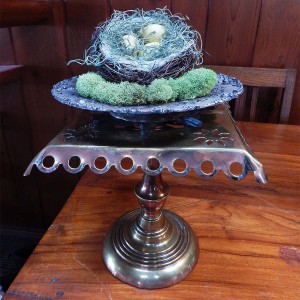 Probably our favorite find this year is this lovely antique Rogers silverplate tray, which we paired with a vintage glass cloche for the ultimate in vintage Easter decor: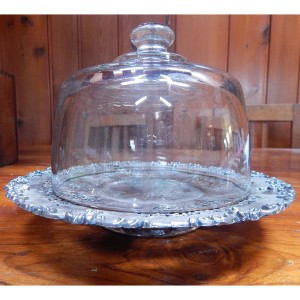 We just love it paired with these tiny vintage hand carved birds for the perfect Easter centerpiece.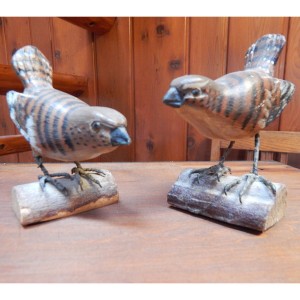 So if you're still on the hunt for the perfect vintage springtime and Easter decor, head on over to vintageadirondack.com and pick up a few of these treasures.
Here's how our Easter display turned out at our new retail location at BeachTown Antiques in Ridgeway, Ontario.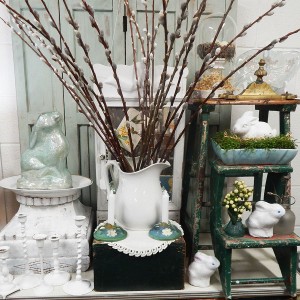 We wish you the happiest of celebrations with your family and friends.